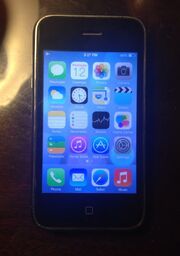 iOS 7
was designed by 
Apple Inc.
 as the successor to 
iOS 6
. It was announced at the company's 2013 
Worldwide Developers Conference
 on June 10, and was released on September 18, 2013. It includes a redesigned 
user interface
 and a number of improvements to the operating system's functionality. The design of iOS 7's new elements was led by 
Jonathan "Jony" Ive
, Apple's Senior Vice President of Industrial Design, for just 8 months.
[3]
History
The launch of iOS 6 in September 2012 was controversial due to its removal of Google Maps due to conflicts regarding licensing, and its replacement with an Apple-built Maps application. Upon launch, users who had upgraded reported several errors regarding the service's accuracy and completeness,[4] leading to CEO Tim Cook to apologize for the errors and suggest iOS 6 users use other mapping applications available in the App Store. Consequently, on October 29, Scott Forstall was dismissed as Senior Vice President (SVP) of iOS and his responsibilities divided among Jony Ive, who became the company-wide SVP for Human Interface,Craig Federighi, whose role as SVP for Mac Software Engineering was expanded to include iOS, Eddy Cue, who gained leadership for Maps and Siri under his duties as SVP for Internet Software and Services and Bob Mansfield, who returned from his recent retirement to become SVP for Technologies.[5] Forstall's departure was attributed to his refusal to sign a letter admitting to responsibility for errors in the Maps service.[6]
Ive is considered to be a proponent of flat design compared to Forstall and former CEO Steve Jobs, who supported skeuomorphic design.[7] In September 2012, Fast Company published a feature on the skeuomorphism controversy within Apple, citing designer complaints over the faux-leather in iCal—designed to imitate seating in Jobs' personal airliner—and Jobs' support of casino-like elements within Game Center in iOS 4.1.[8] Almost immediately after Ive's appointment, speculation started that Ive would seek to remove skeuomorphic elements within the operating system; for example, on October 31, Mark Hattersley, a writer for Macworld, wrote a column for Digital Arts speculating that Ive's opposition to skeuomorphism would affect his design policy within iOS. iOS 7 Beta 2 was just released June 24 2013[8]
Features
iOS 7 was unveiled during the opening keynote of Apple's WWDC on June 10, 2013. Billed as the "biggest change to iOS since the introduction of the iPhone", the most notable change is a complete overhaul of the user interface.[2] In a promotional video shown during the keynote, Ive described the update as "bringing order to complexity", highlighting features such as refined typography, new icons, translucency, layering and gyroscope-driven parallaxing as some of the major changes to the design.[2] The designs of iOS 7 and OS X Mavericks (OS X 10.9) noticeably depart from skeuomorphic elements such as green felt in Game Center, wood inNewsstand, and leather in Calendar for flatter designs.[2]
In his segment of the iOS presentation, Federighi emphasized ten major feature addition and changes:[2][9]
Control Center
Main article: Control Center Similar to the Notification Center, Control Center is available by scrolling up from the bottom of the screen and provides access to settings such as Airplane Mode and brightness, media controls, AirPlay and AirDrop, and shortcuts to several apps including a built-in flashlight, clock, calculator and camera.[9]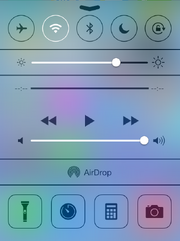 Multitasking
Main article: Safari iOS 7 builds on the limited multitasking introduced in iOS 4 and provides full multitasking for all apps. The multitasking layer also provides for background updating of apps at the same time notifications are pushed to the device, and previews of all running apps.[2][9]
Safari
Safari in iOS 7 integrates the smart search field first used in Safari 6 for OS X and Mavericks' iCloud implementation of Keychain. Other changes include infinite tabs, parental controls, shared links from Twitter and Reading List.[2][9]
AirDrop
Main article: AirDrop iOS 7 integrates Apple's ad-hoc WiFi sharing feature AirDrop for the iPhone 5, iPad 4th generation, iPad Mini and iPod Touch 5th generation.[2][9][10]
Camera
The new camera interface allows swiping between four different modes—video, photo, square photo, and panoramic photo—and offers live photo filter previewing.[2][9]
Trusted Devices
New to iOS brings trusted devices, which the user is alerted with a warning screen when connecting their iOS device to their Mac/PC asking them to trust the currently connected computer.[2][9]
Photos
Photos in iOS 7 uses the EXIF data in each photo to sort photos by date and location, to the year level, and also supports sharing video through iCloud Photo Stream.[2][9]
Siri
Main article: Siri
Siri features a redesign to match the rest of the system, new male and female voices, greater control over system settings, and Twitter, Wikipedia, 
Bing
, and Photos integration.
[2]
[9]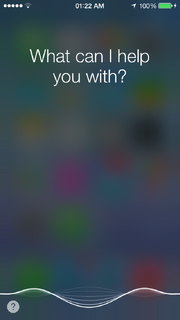 iOS in the Car
iOS in the Car, due for release in 2014 with iOS 7.1, uses Siri integration in selected car models to offer eyes-free and hands-free satellite navigation, telephony, music and iMessage integration through the car's screen.[2][9]
App Store
Main article: App Store The App Store provides more search options by age range and location-aware Apps Near Me feature and also adds automatic app updating and the ability to redeem a giftcard by using a camera.
Music and iTunes Radio
Main articles: iTunes and iTunes Radio
Along with user interface changes, the Music app also integrates Apple's iTunes Radio service, avalible in US and Austalia, however it's rumored that it will be expanding to more countries soon.[2][9]
Other changes mentioned, but not fully featured in the keynote, include audio-only calling in FaceTime, Notification Center syncing and availability from the lock-screen, Tencent Weibo integration, Wi-Fi Hotspot 2.0, OS-level call blocking, app-specific virtual private networking, and activation locking through Find My iPhone.[2]
The first beta, with support for the iPhone 4, iPhone 4S, iPhone 5, and iPod Touch (5th generation), was released after the WWDC keynote to registered developers in the iOS developer program, with a forthcoming beta to add support for the iPad 2 and later and the iPad Mini, then a public release for all devices supported scheduled for Q3—Q4 of 2013.[2]
Version history: portable iOS devices
Main article: [7 Features]
Reception
It has been criticized for perceived design flaws and usability issues.[11] The new icons have been actively criticized on the basis of primitivism, over-simplicity and a "childish" distractive look.[12] The design of the Control Center (like many other UI elements) has been actively criticized for inconsistency with other UI elements and visual similarity with Windows Phone UI elements.[13]
The icons for iOS 7 were designed by Apple's marketing team, with them being told to design the apps around the color palette of the icons; straying from the usual design methodology of iOS.[14] It was also noted that Apple's own website displayed different icons for several iOS 7 apps at a period of time, leading to speculation that the icons were already in the process of being changed due to their reception.[15]
Gallery
Community content is available under
CC-BY-SA
unless otherwise noted.