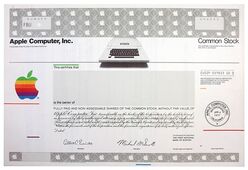 AAPL is the stock ticker symbol of Apple Inc.
Background
Apple Computer was incorporated on January 3, 1977 and went public on December 12, 1980 through Nasdaq.[1] On January 9, 2007, the company removed the word "Computer" from its name to reflect its ongoing expansion into the consumer electronics market, while retaining the AAPL stock ticker symbol.[2]
The first quarter of Apple's fiscal year starts on October 1. Each fiscal quarter consists of a 35-day month, followed by two 28-day months. Apple typically pays out contractual agreements 33 days after the end of each fiscal month.[3]
AAPL became a component of the Dow Jones Industrial Average on March 18, 2015, displacing longtime member AT&T.[4] Apple has since become one of the largest companies in the world, based on market capitalization.[5]
Splits
The stock split five times since its predecessor Apple Computer went public on in December 12, 1980 at US$22 per share.[1]
On July 30, 2020, Apple announced that its board had approved the most recent 4-for-1 stock split, effective August 31.[6] By that time in August, each share had split 224-fold since the initial public offering and would have been worth over $28,000.[1]
Per company by-laws, Apple Computer initially held its annual meetings of shareholders on its premises while a private company. After going public in December 1980, the shareholders meetings were held in the Flint Center at De Anza College in Cupertino, California.[7] In 1984, Apple co-founder Steve Jobs used the meeting as an opportunity to introduce the Macintosh.[8]
After the Apple Campus at 1 Infinite Loop was completed in 1993, shareholders meetings were held at its Town Hall until 2017. Starting on February 13, 2018, the shareholders meetings were moved to the Steve Jobs Theater at Apple Park.[9]
The 2021 annual meeting of shareholders was held virtually in an online format on February 23 due to the COVID-19 pandemic. Action items included the election of the Apple Board of Directors and the approval of executive pay through shareholder voting. In the 2021 meeting, CEO Tim Cook discussed Apple's goals and answered questions about acquisitions and stock dividends, set to about 0.7% per share at the time.[10]
References
↑ Macworld 2007, All about Steve Jobs. 2007-01-09.
↑ Apple's Fiscal Calendar 2021 and Payment Dates by David Barnard, RevenueCat. 2021-03-11.
↑ Apple in, AT&T out of The Dow by Bob Brown, Network World. 2020-03-06.
↑ Apple briefly overtakes Saudi Aramco to become the world's largest company by Subrat Patnaik, Reuters. 2020-07-31.
↑ Apple just announced a stock split — here's what that means for investors by Pippa Stevens, CNBC. 2020-07-30.
↑ If You Purchased $100 of Apple in 2002 by J.B. Maverick, Investopedia. 2019-04-14.
↑ Flint Center's half-century run as Silicon Valley entertainment hub comes to an end by Thy Vo, The Mercury News. 2019-07-07.
↑ Apple's 2018 shareholder meeting today, held for the first time at Apple Park by Daniel Eran Dilger, AppleInsider. 2018-02-13.
↑ Apple's Shareholders Meeting: This Is What Mattered Most by Daniel Martins, The Street. 2021-02-24.
See also
External links
Community content is available under
CC-BY-SA
unless otherwise noted.