The AirPort Base Station was a line of wireless router devices from Apple which created a network ready for access by compatible AirPort devices. Such a network could either be local or connected to the Internet.
An AirPort base station can be used as a fully-featured local area network (LAN) and/or to connect to the Internet. Some base stations have a modem and all have an Ethernet port (some have two, one for LAN and one for WAN). The Airport Base Station (models with modem) is the only wireless access point to be officially supported by AOL's dialup service (including phone support from AOL). Some AirPort Extreme base stations also feature a USB port to connect a printer, meaning that that printer can then be seamlessly used as a network device. On the Airport Extreme this port can also be used to attach a Keyspan USB infrared remote control, to control AirTunes. The newest Airport Extreme base station also supports Power over Ethernet.
Versions
There have been 3 primary types of AirPort Base Stations:
AirPort
Main article: AirPort (original)
AirPort first debuted on July 21, 1999 at the Macworld Expo in New York City. An AirPort card was sold as an optional accessory with Apple's iBook line of notebooks and the AirPort Base Station was also introduced. The AirPort allowed transfer rates up to 11 Mbit/s. Antennas were integrated into the displays of iBooks, so reception was very good. Apple was the first manufacturer to embrace 802.11b wireless networking. The AirPort card was later added as an option for almost all of Apple's product line, including PowerBooks, eMacs, iMacs, and Power Macs.
AirPort Extreme
Main article: AirPort Extreme
On January 7, 2003, Apple Inc. introduced AirPort Extreme, based on the 802.11g specification. AirPort Extreme allows data transfer of up to 54 Mbit/s, and is fully backwards-compatible with the thousands of existing 802.11b (AirPort) base stations in coffee shops, retail stores, offices and homes. All of Apple's current computer models, with the exception of the Xserve, have a slot to insert an AirPort Extreme card, and all models of PowerBook and iBook now ship with a card as standard. The Extreme cards, however, do not work in older Macs--the Airport bus cannot support the new faster transfer rate. However, an Airport Extreme base station can communicate both with newer 802.11g-based devices and the older 802.11b AirPort cards.
AirPort Express
Main article: AirPort Express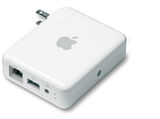 On June 7, 2004, Apple introduced AirPort Express, based on the 802.11g specification. AirPort Express is an AirPort base station, which currently holds the title of smallest base station in existence, and includes Audio-out, USB for remote printing and ethernet-port. AirPort Express supports AirTunes functionality, which allows audio to be streamed over wireless network to the AirPort Express, which outputs the audio through its audio-out to stereos, for example. AirTunes functionality requires iTunes 4.6, or newer. Audio-out supports digital optical and analogue output. AirPort Express can also be used to easily expand wireless coverage via WDS-bridging.
External links