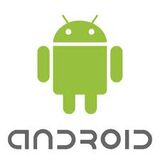 Android is a mobile operating system based on a modified version of the Linux kernel and other open source software, designed primarily for touchscreen mobile devices such as smartphones and tablet computers. Android is developed by a consortium of developers known as the Open Handset Alliance and sponsored by Google. It was announced in November 2007, and first commercially released in September 2008 with the HTC Dream. It has become a major competitor to iOS and iPadOS from Apple Inc. Other major competitors such as Symbian and Windows Mobile have since exited the market.
Background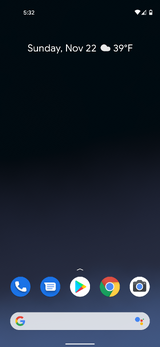 Android is free and open source software; its source code is known as Android Open Source Project (AOSP), which is primarily licensed under the Apache License. However most Android devices ship with additional proprietary software pre-installed,[1] most notably Google Mobile Services (GMS)[2] which includes core apps such as Google Chrome, the digital distribution platform Google Play and associated Google Play Services development platform. About 70 percent of Android smartphones run Google's ecosystem;[3] competing Android ecosystems and forks include Fire OS (developed by Amazon) or LineageOS. However the "Android" name and logo are trademarks of Google which impose standards to restrict "uncertified" devices outside their ecosystem to use Android branding.[4][5]
The source code has been used to develop variants of Android on a range of other electronics, such as video game consoles, digital cameras, portable media players, PCs and others, each with a specialized user interface. Some well known derivatives include Android TV for televisions and Wear OS for wearables, both developed by Google. Software packages on Android, which use the APK format, are generally distributed through proprietary application stores like Google Play Store, Samsung Galaxy Store, Huawei AppGallery, Cafe Bazaar, and GetJar, or open source platforms like Aptoide or F-Droid.
History
The Android operating system was created at Android Inc., founded in October 2003 at Palo Alto, California. Co-founder Andy Rubin is a former engineer of Apple Computer who was nicknamed "Android" by his former co-workers there due to his interest in robotics.[6] In 2005, Android was acquired by Google for US$50 million. Rubin remained as an executive overseeing Android until he left Google in 2014 following an internal investigation into an alleged sex scandal.[7]
Android has been the best-selling operating system worldwide on smartphones since 2011 and on tablets since 2013. As of May 2017, it had over two billion monthly active users, the largest installed base of any operating system, and as of January 2021, the Google Play Store featured over 3 million apps.[8] Android users can install apps from unofficial sources on the open Internet through a process known as sideloading — doing the same on an iOS device would require jailbreaking. Apple CEO Tim Cook states that such security measures are in place to reduce malware attacks and protect user privacy. Cook has openly recommended Android for users who want to sideload apps.[9]
Release history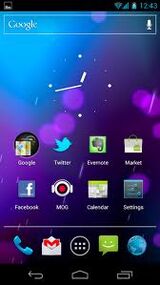 Note: Android 10 and up and Android 1.1 are not publicly called the desserts, they are only used internally by both staff and some enthusiasts. They were removed due to marketing issues with the "rest of the world"[13]
Migrating between Android and iOS
In 2015, Apple introduced Move to iOS to facilitate the migration of user data from their Android phone to iOS. Over six years later in April 2022, Google introduced its own counterpart, Switch To Android.[14]
Android on Apple hardware
Android on counterfeit iOS devices
Nearly all iPhone clones and knockoffs run some form of Android that has been modified to simulate iOS with varying degrees of accuracy. Some older ones may be running other firmware.[25][26][27][28][29][30]
Despite having greater market share due to lower average cost, Android users are known to have "iPhone envy", leading to the rise of a genre of launcher apps that mimic the superficial appearance of the iOS user interface fairly closely. Some even manage to simulate some iOS-specific features such as the Weather app and Control Center[31]
Gallery
References
External links