For the version specifically for Mac OS X and macOS, see Mac App Store.
The App Store is an application developed by Apple for iOS, iPadOS, tvOS, and watchOS to allow users to browse and download applications that were developed with the iPhone or related SDK. The version specifically for macOS is known as the Mac App Store. The apps sold on the App Store are either free or must be purchased, depending on the application; the store places restrictions on free-to-try software. The applications are downloaded directly to the iOS device it was purchased/installed on that device/Mac, or it will be transferred to all devices under the Apple ID through iCloud. Whilst Apple has stated that they do not expect to profit from the store, it has been predicted by Piper Jaffray that the App Store could create a profitable marketplace with revenue exceeding 1 billion dollars annually (USD) for the company.[1] The App Store opened early in the morning on July 10, 2008 via an update to iTunes. Applications were immediately available for download at that time.
Introduction
SDK
The Software Development Kit for iPhone and iPod touch was announced at the iPhone Software Roadmap event on March 6, 2008. The SDK will allow developers (running Mac OS X 10.5 or higher) to create applications, using Xcode, which will natively run on both the iPhone and iPod touch. A Beta version was released after the event, and a final version will be released in July alongside the iPhone 3G, due to be released July 11. Applications that developers create will be sold exclusively through the iTunes Store on Mac and Windows, or on the App Store on the iPhone and iPod touch.[2] Developers will get 70% of sales and will not have to pay any distribution costs for their application other than a US$99 fee to use the SDK on the iPhone and upload applications to the store.
Demonstrated applications
Several applications were demonstrated at the iPhone Software Roadmap event on March 6, 2008. These included:[3]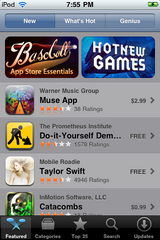 | Title/type/description | Developer | Price |
| --- | --- | --- |
| Hello World | | |
| Touch FX, a photo manipulation application | | |
| Touch Fighter, a game where the user steers a spacecraft by tilting the iPhone | | |
| Spore | Electronic Arts | $9.99 |
| Salesforce Mobile | Salesforce.com | Free |
| AIM | America Online | Free |
| Epocrates RX | Epocrates | Free |
| Super Monkey Ball | SEGA | $9.99 |
Several other applications were demonstrated at WWDC 2008 in the keynote presentation. These included:[4]
| Title/type/description | Developer | Price |
| --- | --- | --- |
| eBay Mobile | eBay Inc. | Free |
| Social network map ping | Loopt | Free |
| Blogging | TypePad | Free |
| Mobile News Network | Associated Press | Free |
| Enigmo | Pangea Software | $9.99 |
| Cro-Mag Rally | Pangea Software | $9.99 |
| Band | Mark Terry, MooCowMusic | $9.99 |
| At-Bat | MLB.com | $4.99 |
| An educational anatomy quiz | Modality | $39.99 |
| Medical imaging | Mimvista | Free |
| Kroll | Digital Legends Entertainment | N/A |
Number of launched applications
The App Store launched with 500 applications on July 10, 2008. On the following day, the iPhone OS 2 software update was released, allowing iPod touch and iPhone users to buy and directly download apps. Support for Macs was added on January 6, 2011 with the release of Mac OS X 10.6.6.
By 2012, there were more than 500,000 apps available for download. By 2017 there were over 2.2 million apps.
App removal controversies
In November 2019, Apple removed all applications related to vaping, citing warnings from health experts.[5]
In August 2020, Epic Games submitted an update for their Fortnite game that was rejected by the Apple App Store and the Google Play store for violating their respective policies. Epic retaliated by filing federal lawsuits against both companies and releasing a parody of Apple's 1984 ad.[6][7] The first legal ruling was in Apple's favor, though Judge Yvonne Gonzalez Rogers found that Apple "over-retaliated" by also blocking Epic's developer tools, known as Unreal Engine, which is used by other parties. Apple then invited Epic to bring back Fortnite under the App Store's existing terms.[8] After Epic declined to resubmit Fortnite those terms, Apple suspended Epic's developer account, causing its other games to become unavailable through the App Store. Users who already paid for Fortnite are allowed to keep their purchase. Apple kept Unreal Engine available through Epic's separate account, in line with the judge's ruling.[9] Apple then promoted PUBG, another game with similar gameplay, as an alternative for users in Fortnite's absence.[10] In September 2020, Apple filed a countersuit against Epic Games for breach of contract and damages.[11] Judge Rogers stated that the earliest the case could go to trial is around July 2021.[12] The case against Google is still pending.[8]
Game streaming policy
Apple's online store policy was previously criticized for not allowing game streaming services such as Google Stadia and Microsoft's xCloud.[13] In September 2020, Apple modified its App Store rules to allow such streaming services, but under its terms which require games to be individually submitted to Apple and directly downloadable from the App Store. Microsoft complained that the user experience would still be "bad."[14]
References
↑ "Analyst: There's a great future in iPhone apps", VentureBeat, June 11 2008.
↑ Block, Ryan (2008-03-06). Live from Apple's iPhone SDK press conference. Engadget.com. Retrieved on 2008-07-08.
↑ Krazit, Tom (2008-06-09). Live blog: Steve Jobs at WWDC 2008. CNET News.com. Retrieved on 2008-07-08.
↑ Vincent, James (2019-11-15). Apple removes all vaping-related apps from the App Store

(en)

.
↑ Apple stumbled into a war with the gaming industry and the future of iOS is at stake by Nick Statt, The Verge. 2020-08-15.
↑ Fortnite vs Apple vs Google: a brief and very incomplete timeline by Dieter Bohn, The Verge. 2020-08-14.
↑ 8.0 8.1 New Fortnite Season Will Not Be Available On iPhones, As Judge Sides With Apple by Bobby Allyn, NPR. 2020-08-27.
↑ Apple suspends Fortnite maker Epic Games' App Store account by Todd Haselton, CNBC. 2020-08-28.
↑ Apple highlights PUBG Mobile on same day it's set to close 'Fortnite' account by Mike Peterson, AppleInsider. 2020-08-28.
↑ 'Willful, brazen, and unlawful': Apple files breach-of-contract countersuit against Epic by Devin Coldewey, TechCrunch. 2020-09-08.
↑ Judge in Apple 'Fortnite' case slams Epic's tactics, hints at July trial date by Brian Fung, CNN. 2020-09-28.
↑ Apple confirms cloud gaming services like xCloud and Stadia violate App Store guidelines by Nick Statt, The Verge. 2020-08-06.
↑ Apple loosens some in-app restrictions after friction with developers by Julia Musto, Fox Business. 2020-09-13.
External links