For the version specifically for Mac OS X, see Mac App Store
App Store
[[File:
Latest Version:

9 (Released September 16, 2015)

Publisher:

Apple

Operating System:

iOS

Homepage:
The App Store is an application for iOS and macOS. The App Store was created by Apple Inc., which allows users to browse and download applications that were developed with the iPhone SDK. The apps sold on the App Store are either free or must be purchased, depending on the application; the store places restrictions on free-to-try software. The applications are downloaded directly to the iOS device it was purchased/installed on that device/Mac, or it will be transfered to all devices under the Apple ID through iCloud. Whilst Apple has stated that they do not expect to profit from the store, it has been predicted by Piper Jaffray that the App Store could create a profitable marketplace with revenue exceeding 1 billion dollars annually (USD) for the company.[1] The App Store opened early in the morning on July 10, 2008 via an update to iTunes. Applications were immediately available for download at that time.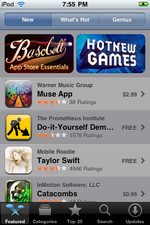 Introduction
SDK
The Software Development Kit for iPhone and iPod touch was announced at the iPhone Software Roadmap event on March 6, 2008. The SDK will allow developers (running Mac OS X 10.5 or higher) to create applications, using Xcode, which will natively run on both the iPhone and iPod touch. A Beta version was released after the event, and a final version will be released in July alongside the iPhone 3G, due to be released July 11. Applications that developers create will be sold exclusively through the iTunes Store on Mac and Windows, or on the App Store on the iPhone and iPod touch.[2] Developers will get 70% of sales and will not have to pay any distribution costs for their application other than a United States dollar|US$99 fee to use the SDK on the iPhone and upload applications to the store. Also you can read more about iPad app development for small business and enterprise.
Demonstrated applications
Several applications were demonstrated at the iPhone Software Roadmap event on March 6, 2008. These included:[3]
| Title/type/description | Developer | Price |
| --- | --- | --- |
| Hello World | | |
| Touch FX, a photo manipulation application | | |
| Touch Fighter, a game where the user steers a spacecraft by tilting the iPhone | | |
| Spore | Electronic Arts | $9.99 |
| Salesforce Mobile | Salesforce.com | Free |
| AIM | America Online | Free |
| Epocrates RX | Epocrates | Free |
| Super Monkey Ball | SEGA | $9.99 |
Several other applications were demonstrated at WWDC 2008 in the keynote presentation. These included:[4]
| Title/type/description | Developer | Price |
| --- | --- | --- |
| eBay Mobile | eBay Inc. | Free |
| Social network map ping | Loopt | Free |
| Blogging | TypePad | Free |
| Mobile News Network | Associated Press | Free |
| Enigmo | Pangea Software | $9.99 |
| Cro-Mag Rally | Pangea Software | $9.99 |
| Band | Mark Terry, MooCowMusic | $9.99 |
| At-Bat | MLB.com | $4.99 |
| An educational anatomy quiz | Modality | $39.99 |
| Medical imaging | Mimvista | Free |
| Kroll | Digital Legends Entertainment | N/A |
Number of launched applications
As of 2012, there are more than 500,000 apps available for download on the App Store. As of July 11, 2008, users may buy applications from the App Store, and transfer them to an iPod touch or iPhone which has the iPhone OS 2 software update, which became available through iTunes on the same day.
References
External links
Community content is available under
CC-BY-SA
unless otherwise noted.