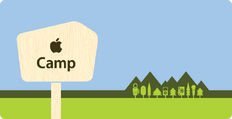 Apple Camp is an extension of the Today at Apple education and training program, but for children on summer break from school.
History
Apple Camp began in 2003 as a complimentary program for children of families that purchased a new computer directly from Apple Computer between June 15th and August 10th. 90-minute workshops were held at Apple retail stores in beginner and advanced levels for students between grades 1 to 9.[1] By the following year, the program was made free, though space was limited for children ages 8 to 12. Participants in the Mac, photo, music, or movie workshops could take their projects home on CD-ROM or DVD-ROM.[2] In 2006, courses in iWeb and podcasting were added.[3]
In 2011, the workshops shifted to GarageBand on iPad and iMovie for the Mac. Participants at the end of the program could submit their projects to be shown at the Apple Camp Film Festival.[4][5]
In 2020 during the COVID-19 pandemic, Apple closed most of its retail store locations during the summer, and substituted an online Apple Camp at Home program. Students could apply for openings in which live online video courses covered art and design, coding, and video.[6] Activity Books were provided as downloadable Pages files.[7]
References
External links