Apple III
 Creator: Apple Computer
 CPU: 1.8 MHz Synertek SY6502A
 Announced: May 19, 1980
 Released: November 1980
 Price: $7,800
 Discontinued: April 24, 1984
The Apple III, stylized as Apple /// and codenamed "Sara", was a personal computer from Apple Computer that was targeted towards business users.
History
Development
Development on the Apple III began in late 1978 with Wendell Sander as the lead engineer. However, Apple co-founder Steve Wozniak noted that development was being controlled by a committee of marketing staff instead of the engineers. Steve Jobs became involved in the aesthetic design of the computer, eliminating air vents and as well as the use of a fan for quiet operation.[1] David Fradin was recruited by Apple to develop its first hard drive, the ProFile, for the Apple III.[2]
Release
The Apple III was unveiled at the National Computer Conference in Anaheim, California on May 19, 1980. Attendees were shuttled by British double-decker bus to Disneyland, which had been rented by Apple for 5 hours as part of the special event.[3]
Priced at $4340 to $7,800, the Apple III featured a 1.8 MHz Synertek SY6502A processor and 128MB of RAM. It was intended as a high-end successor to the Apple II and II+, but missed its own ship date, originally scheduled in July 1980.[3] It finally shipped the following November with the Apple SOS operating system, which had been ready since September 1980.[4] The Apple III was promoted by Steve Jobs as "the ultimate hobbyist computer" and that it "will not replace the Apple II by any means. It's designed to enhance it."[1]
Reception
Apple III was plagued with reliability problems caused by the lack of air vents and fans at Jobs' insistence, which led to overheating and chips coming loose from their sockets. Apple's tech support advised users to pick up the computer two inches and drop it to help reset loose chips. The real-time clock was also prone to failure. By the time it was discontinued on April 24, 1984, only about 65,000 units had been sold.[1][5] Its higher profit margin still helped yield $100 million in annual gross profits at its peak.[2]
Revisions
The Apple III revised edition was announced by Apple on November 9, 1981 with improved manufacturing and quality control procedures. It was released on December 1, 1981 at a lower base price of $3495 with updated chip sockets, software, and base memory increased to 256KB of RAM. The faulty clock was left out of the spec and was only available as an optional add-in. A 5MB ProFile hard drive also became available as an option. Around 2,000 customers experiencing problems with their existing Apple III received a free upgrade to this version. The installed user base reached about 75,000 units by December 1983.[3][6]
Apple III plus
Main article: Apple III plus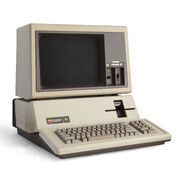 The Apple III plus was the final update to the Apple III that was released in December 1983. With a reduced price of $2,995, the newer model included a digital clock, a re-designed keyboard, video interlacing, rear port connectors, and 256KB of RAM.[3] The new keyboard was similar to the Apple IIe.
Owners of the original Apple III could get the new logic board as a replacement. A keyboard kit was also made, which included the updated keyboard, cover, keyboard encoder ROM, and logo replacements.
Discontinuation
Although the Apple III plus helped boost the installed base to 120,000 units, the damage to its reputation had already been done. The Apple III product line was discontinued in September 1985 after losses reached $60 million.[3]
References
External links
Articles
Community content is available under
CC-BY-SA
unless otherwise noted.