The following Special Events were held by Apple in 2012:
March 2012
On March 7, 2012, Apple hosted an event titled "Its Show Time".
The 3rd generation iPad was released as the "New iPad". This new model featured a new Retina display and a dual-core Apple A5X processor with quad-core graphics.
iOS 5.1 was released with the new iPad and 3rd generation Apple TV, but also offered new features for other iOS devices:
App Store download limit over 3G increased from 20 to 50 MB.
"Sleep iPod" function in clock application changed to "Stop Playing", this function also works for applications other than Music.
Redesigned Camera app (iPad).
Camera shortcut on lock screen now always present, and has a new slide-up gesture to activate (iPhone and iPod Touch 4th generation only).
Face detection and video stabilization. (iPhone 4S & iPad (3rd generation) only).
Camera face detection now highlights all detected faces (iPhone 4S & iPad (3rd generation) only).
License column added under the About menu.
Improved Location Services.
Minor UI changes in Maps.
Fixed slowdown when changing to landscape (Cover Flow) in Music app.
Shake-to-shuffle bug fix, which previously caused the Music app to freeze.
Smart playlists bug fix.
Genius Mixes and Genius playlists for iTunes Match subscribers.
Podcast controls for playback speed and a 30 second rewind (iPad).
Baseband updates for some devices.
Carrier updates (e.g. AT&T 12.0, Verizon 12.0).
4G icon shown when on AT&T's HSPA+ network (iPhone 4S only)
Fixes iPhone 4S support for Caller ID Name Display (on supported carriers – e.g. Rogers & Fido in Canada).
Possible fix to Outgoing Call No Audio (OCNA) issue.[citation needed]
Restores the 3G switch on iPhone 4S
Combined Voice/Data Roaming Switch on iPhone.
Photos can now be deleted from Photo Stream.
Safari address bar now has "Go to this address" instead of a blank bar
Bookmarks list no longer automatically displayed on browser opening if there are no open pages in Safari.
A string format exploit in an application named racoon that allowed executing unsigned code at boot-up is fixed.
An ROP exploit that allowed executing payloads vnimage is now fixed.
A flaw that was executed by mounting a maliciously crafted disk image and may lead to a device shutdown or arbitrary code execution is now fixed.
A logic issue with debug system calls that could bypass sandbox restrictions is fixed.
Webkit security updates.
A format string vulnerability existed in the handling of racoon configuration files (VPN) is now fixed.
CFNetwork security updates.
Enhanced Siri dictation support during text input "on supported devices" (iPhone 4S & iPad (3rd generation) only).
Japanese language support for Siri (availability was limited during initial rollout).
Audio for TV shows and movies on iPad optimized to sound louder and clearer.
Setup Assistant bug fix.
Attempts at fixing battery life; results were mixed.
Bluetooth status bar indicator bug fix.
Improved Assistive Touch.
Fixed bug that allowed nested folders (folders within folders), including Newsstand.
Fixed bug that caused stuck keys on Apple Bluetooth Keyboards during wakeup from low power states.
Redesigned fonts for few non-Latin languages
Product rumors
Prior the March 2012 presentation, rumors spread across the internet about a small "iPad mini" that was to be announced, but this was not yet the case.
June 2012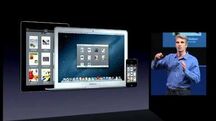 Main article: Worldwide Developers Conference 2012
The 2012 Worldwide Developers Conference (WWDC 2012) was held from June 11 to 15, 2012 at Moscone West in San Francisco. During the keynote event on the opening day, the OS X 10.8 "Mountain Lion" was announced along with iOS 6 and the new Apple Maps. New MacBook Air models were also introduced along with the 15-inch MacBook Pro with Retina display.[1]
September 2012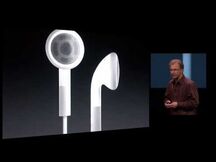 On September 12, 2012, Apple CEO Tim Cook shared updates about products sales and the grand opening of a new flagship store in Barcelona, Spain. Apple senior VP Phil Schiller presented the new iPhone 5, the 5th-generation iPod touch, and new EarPods.[2]
October 2012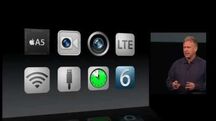 On October 23, 2012 at the California Theatre in San Jose, California, Apple CEO Tim Cook presented the new 4th-generation iPad, the long-rumored iPad mini, slimmer new iMacs, and the 13-inch MacBook Pro with Retina display.[3]
References
External links