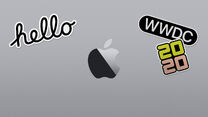 The following Special Events were held by Apple in 2020:
Spring 2020
The 4th generation iPad Pro and an updated MacBook Air (3rd generation) were announced online on March 18, 2020.[1] The 2nd generation iPhone SE was announced online on April 15, 2020. There was no live special event for these products during the COVID-19 pandemic.[2]
June 2020
Main article: Worldwide Developers Conference 2020
The 2020 Worldwide Developers Conference (WWDC 2020) was streamed online from June 22 to 26, 2020, the first to be held virtually due to the ongoing COVID-19 pandemic. During the keynote event on the opening day, new announcements included iOS 14, iPadOS 14, macOS Big Sur, tvOS 13, and watchOS 7. The company also announced that the Mac platform would switch to Apple processors over the next 2 years, with Rosetta 2 and Universal 2 to aid in the transition.[3][4]
September 2020
Apple hosted another online-only media event on September 15, 2020 at 10 a.m. PT from Apple Park in Cupertino, titled "Time flies." Apple CEO Tim Cook opened the event with decriptions of usage of the Apple Watch during the COVID-19 pandemic. COO Jeff Williams introduced the Apple Watch Series 6 and SE, both running watchOS 7. New service announcements include Apple One, a bundle of subscription services which includes Apple Fitness+. Other announcements included the new iPad (8th generation) and iPad Air (4th generation), running iPadOS 14.[5] iOS 14 and iPadOS 14 were released the following day on September 16.[6]
October 2020
Apple announced the HomePod mini and the iPhone 12 line in an online-only media event on October 13, 2020 at 10 a.m. PT from Apple Park in Cupertino.[7] The theme "Hi, Speed." referred to support for faster 5G wireless networks, with peak throughput of 4 Gbps. Additional models include the downsized iPhone 12 mini, high-end 12 Pro, and larger 12 Pro Max.[8][9]
Some market analysts had predicted that such releases would be delayed about a month after September due to the impact of the COVID-19 pandemic.[10] In an earnings call on July 30, 2020, Apple CFO Luca Maestri confirmed that new iPhones would be delayed by several weeks to sometime in October.[11]
November 2020
On November 10, 2020, Apple Senior VP of Hardware Technologies Johny Srouji introduced the 8-core Apple M1 processor, designed specifically for the Mac through a 5nm process that allows increased performance with reduced power usage. The first models to use the M1 processor are the MacBook Air, 13-inch MacBook Pro, and Mac mini. Senior VP of Software Engineering Craig Federighi announced that macOS Big Sur would be released on November 12.[12][13]
Because Apple committed to releasing Macs using Apple Silicon in 2020, some websites predicted that another special event would be scheduled before the end of the year.[14][15] On November 2, Senior VP of Worldwide Marketing Greg Joswiak announced that an event titled "One More Thing." would be held on November 10.[16]
References
↑ Apple announces new iPad Pro with camera that can scan 3-D objects and new MacBook Air by Todd Haselton, CNBC. 2020-03-18.
↑ iPhone SE: A powerful new smartphone in a popular design, Apple Inc. 2015-04-15.
↑ The 9 biggest highlights from Apple WWDC 2019 by Natt Garun, The Verge. 2019-06-03.
↑ WWDC 2019 news & product announcements by David Price, Macworld, 2019-06-04.
↑ Apple Event — September 15 by Apple, YouTube. 2020-09-15.
↑ Apple announces Sept. 15 event where it's expected to announce new products, iPhone likely coming later by Todd Haselton, CNBC. 2020-09-08.
↑ Apple Event — October 13 by Apple, YouTube. Accessed 2020-10-07.
↑ Apple officially announces iPhone 12 event for October 13: 'Hi, Speed' by Chance Miller, 9to5Mac. 2020-10-06.
↑ Apple Event 2020 LIVE Updates: 2020 iPhones are coming with 5G connectivity, says CEO Tim Cook, Firstpost. 2020-10-13.
↑ Apple reportedly delays iPhone 12 mass production by a month by Tom Warren, The Verge. 2020-04-27.
↑ Apple confirms new iPhones won't arrive in September by Tom Warren, The Verge. 2020-07-30.
↑ Apple Event — November 10 by Apple, YouTube. 2020-11-10.
↑ Apple unleashes M1, Apple Inc. 2020-11-10.
↑ When is the next Apple Event? by Karen Haslam, Macworld UK. 2020-10-12.
↑ Apple's 2020 Event Plans: New Products and Software Coming in 2020 by Juli Clover, AppleInsider. 2020-10-06.
↑ One More Thing. November 10. by Greg Joswiak, Twitter. 2020-11-02.
See also
External links
Community content is available under
CC-BY-SA
unless otherwise noted.