The following Special Events are scheduled to held by Apple in 2021:
April 2021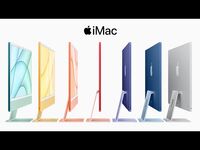 Apple hosted an online virtual event on April 20, 2021 at 10:00 a.m. PDT with the slogan "Spring loaded."[1] Tim Cook started by declaring Apple's goal of becoming carbon neutral for Earth Day. Apple Card added support for merging credit lines for use by family members. Apple Podcasts was updated with support for subscriptions. Purple became available as a new color option for the iPhone 12 and 12 mini. Find My added support for new AirTags; iPhone 11 and later models with the Apple U1 chip can track them with added precision. The Apple TV 4K was updated with the Apple A12 Bionic to support high-dynamic-range video in high frame rates. The Siri Remote was updated in a more durable recycled aluminum enclosure. The new hardware will become available on April 30. Cook announced that Apple M1-based Macs now represent the majority of Apple's Mac sales. New 24" iMacs were presented in a thin 11.5 mm design, with 7 available colors. The FaceTime camera was upgraded to support 1080p video. The Magic Keyboard was updated to support Touch ID on M1-based Macs. The 5th-generation iPad Pro was upated with the M1 processor, 5G connectivity, Thunderbolt support, and up to 2 TB of storage.[2]
As the first event of the year to be held by Apple, the date was the subject of media speculation, leading to a reporter being forced to shave off his eyebrows after incorrectly guessing a March date.[3]
June 2021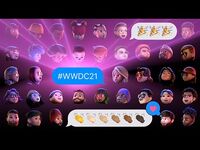 Main article: Worldwide Developers Conference 2021
The 2021 Worldwide Developers Conference (WWDC21) was held online from June 7 to 11. New operating system announcements included iOS 15, iPadOS 15, macOS 12, tvOS 15, and watchOS 8.[4]
September 2021
Apple hosted an online media event on September 14, 2021 at 10 a.m. PT from Apple Park in Cupertino. Apple CEO Tim Cook started by congratulating Apple TV+ for its numerous Emmy Awards nominations. The first hardware announcement was the 9th-generation iPad, powered by the Apple A13 with a new wide angle 12MP front camera, but retaining the same form factor as the previous version. The 6th-generation iPad mini was updated with an Apple A15 and a new external design that resembles the 4th-generation iPad Air. The Apple Watch Series 7 was introduced with thinner borders, resulting in a larger screen area. It also features improved durability and faster charging.[5] The final new announcement was the iPhone 13 line, featuring the Apple A15 processor.[6]
Late 2021
Apple was previously known to release other new devices, such as AirPods, later in the year.[7][8]
References
↑ Siri reveals Apple  Event April 20 by ohHrishikesh, Twitter. 2021-04-13.
↑ Apple Event — April 20 by Apple, YouTube. 2021-04-20.
↑ Apple event predicted for April, not March 23 by Wesley Hilliard, AppleInsider. 2021-03-17.
↑ Apple officially announces virtual WWDC 2021 for June, iOS 15 and more expected by Chance Miller, 9to5Mac. 2021-03-30.
↑ Apple Event — September 14 by Apple, YouTube. 2021-09-14.
↑ Apple's iPhone 13, Apple Watch Series 7 event is on September 14 by Malcolm Owen, AppleInsider. 2021-09-07.
↑ When is the next Apple Event? by Karen Haslam, Macworld UK. 2020-11-16.
↑ Apple's 2021 Event Plans: New Products and Software Coming in 2021 by Juli Clover, AppleInsider. 2021-01-22.
See also
External links