This page is about the online store. See also Apple Store (retail).
The Apple Store is the online shop at the website of Apple Inc. All of Apple's product lines are carried as well as select brands of accessories for its products. It is owned and operated by Apple Inc. in Cupertino, California. Besides the website, items from the store can also be ordered by phone through (800) MY–APPLE.
Products sold
Hardware, including iMacs, iPhones, iPod touches, Mac minis, Mac Pros, MacBook Airs, MacBook Pros, and accessories, such as AirPods, Magic keyboards, mice, and trackpads.
Third-party Software for Mac OS X, such as games, utilities, and design software by developers like Adobe. With Apple phasing out the use of physical media, these software sales for macOS have also migrated to the Mac App Store.
Select Third Party Accessories for Apple products, ranging from carrying cases for Apple notebooks and iPod sleeves to speakers, printers, scanners, memory upgrades, and digital cameras.
Also available are Apple Instant Loans for when you can't quite afford your purchase, as well as gift certificates to both the Apple Store and the iTunes Music Store. It offers automatic online discounts to "educational" users which include both faculty and students of higher education, and faculty of K-12 schools. In short, if its Apple branded or works well with Apple products, you can find it at the Apple store.
History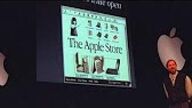 In 1997, the year Steve Jobs officially returned to Apple, Dell founder and CEO Michael Dell was asked how he would fix Apple. Dell responded: "I'd shut it down and give the money back to the shareholders". This angered Jobs, due to Dell's success with its online store originally built by NeXT, the former business that Apple acquired to bring Jobs back. A team of Apple and NeXT employees spent several months building an online store that would be better than Dell's. On November 10, 1997, Steve Jobs announced the online store at an Apple press event, and during his keynote speech, he said: "I guess what we want to tell you, Michael, is that with our new products and our new store and our new build-to-order manufacturing, we're coming after you, buddy."[1]
In August 2015, Apple revamped the online storefront, removing the dedicated "Store" tab and making the entire website a retail experience.[2][3]
References
↑ Fiegerman, Seth (May 16, 2014). The Slow Evolution of Apple's Online Store. Retrieved on April 26, 2017.
↑ Panzarino, Matthew (August 6, 2015). Apple.com, One Of The World's Biggest Stores, Gets A Redesign. AOL. Retrieved on April 26, 2017.
↑ Moon, Mariella (August 6, 2015). Apple's website redesign kills separate 'Store' section. AOL. Retrieved on April 26, 2017.
See also
AppleDesigns, a previous online store dedicated to Apple-branded merchandise.
External links