This article is about the physical retail chain. For the online store, see Apple Store (online).
Apple Retail Stores are operated by Apple Inc. The stores feature the Apple product line; "solution zones" for movies, photos, music and kids; accessories, and a "Genius Bar" at which Apple product owners can discuss technical issues or bring their computers in for service.
History
The Apple Store concept was developed by Ron Johnson who had joined Apple Computer in 2001 after leaving Target, where he was previously the Vice President of Merchandising.[1] Johnson worked closely with Apple co-founder Steve Jobs, who had a hands-on role in the design.[2] The first Apple retail store was opened on May 19, 2001 at Tysons Corner Center in McLean, Virginia. Flagship stores were opened in New York City, Los Angeles, Chicago and San Francisco. Apple was awarded numerous architectural awards for its store design, particularly its SoHo location. By February 2003, Apple opened 76 retail stores in the United States. In 2004, Apple began opening "mini stores" under 2000 square feet as retail space became difficult to find at the rapid rate of Apple's expansion.[3] By 2011, over 200 stores had been opened.[1]
Openings of new stores have turned into social happenings among avid Mac and iPhone users. The events often attract thousands of customers, waiting in line to get in first. Apple co-founder Steve Jobs was known to personally visit the Palo Alto store near his home.[4]
International expansion
The first interational store was opened in the Ginza district of Tokyo, Japan on November 30, 2003. The first store in Europe opened in London, UK on Regent Street at 10am on November 20, 2004. Stores across Asia, particularly China, have become substantial revenue generators for Apple. By February 2015, Apple had phased out all of its smaller stores as more desirable locations became available.[5] By 2018, 84 stores had relocated and only 2 locations were closed without a direct replacement.[6] By 2020, Apple had 510 store locations.[7]
On February 25, 2021, Target announced that it would begin opening Apple store-within-a-store experiences at 17 of their locations, with more coming in the fall.[8]
COVID-19 pandemic
Main article: COVID-19
See also: 2020-2021 closures and reopenings
In February 2020, Apple closed their retail stores in China in response to the 2019–20 coronavirus pandemic caused by the COVID-19 virus.[9] Apple soon closed all of their store locations worldwide.[10][11]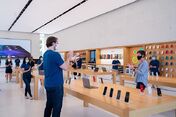 All 42 retail stores in China were reopened on March 13, 2020 as the outbreak in China was stated to be under control.[9] This was followed by the reopening of Apple's store in Seoul, South Korea on April 18, with limited hours and an emphasis on repair appointments.[12] Stores in Australia reopened on May 7, with requirements of face masks, social distancing, and temperature checks of customers.[13] Other stores around the world, including the United States,[14] began reopening on a rolling basis in May, based on local conditions and guidelines.[15] By the end of the month, half of all Apple Stores worldwide had reopened.[16] However, future product launch dates may be affected due to disruptions in Apple's manufacturing supply chain.[17]
On the early morning of April 17 in California, Apple's retail store closure page due to the COVID-19 pandemic was briefly redirected to the pre-order page of the newly announced 2nd generation iPhone SE.[18] However, this was quickly reverted after the pre-orders became active.[19]
George Floyd protests
Main article: Looting of Apple Stores: George Floyd protests
On May 30, 2020, stores in the United States were looted in the wake of nationwide protests over the death of George Floyd.[20] Damaged stores were closed for repairs, and high-risk locations were pre-emptively boarded up.[21] Some boarded-up stores were decorated with murals and became gathering places for Black Lives Matter marches.[22][23]
Gallery
References
↑ 1.0 1.1 Ron Johnson, Apple Inc. Archived 2011-07-04.
↑ Steve Jobs took weekly hands-on role in first Apple store design, says former retail head Ron Johnson by Roger Fingas, AppleInsider. 2018-12-05.
↑ Wave goodbye to the last of Apple's mini-stores by Luke Dormehl, Cult of Mac. 2015-02-13.
↑ Steve Jobs appears at Palo Alto Apple store for iPad launch by Katie Marsal, AppleInsider. 2010-04-05.
↑ Last Mini-Store Moves to Full-Size Space by Gary Allen, ifo Apple Store. 2015-02-14. Archived 2015-02-19.
↑ Apple's former retail stores: Where are they now? by Michael Steeber, 9to5Mac. 2018-04-04.
↑ Apple Stores, MacRumors. 2020-05-12.
↑ Apple Shopping Experience at Target, Target. 2021-02-25.
↑ 9.0 9.1 All 42 Apple Stores in China have reopened by Sam Byford, The Verge. 2020-03-13.
↑ Apple's COVID-19 response, Apple Inc. 2020-03-13.
↑ Temporary Retail Store Closures, Apple Inc. 2020-03-18.
↑ Apple Store to reopen in South Korea with an emphasis on fixing Macs and iPhones by Kif Leswing, CNBC. 2020-04-16.
↑ Apple Stores reopen in Australia by William Gallagher, AppleInsider. 2020-05-07.
↑ COVID-19: Which Apple Stores have reopened? by Michael Steeber, 9to5Mac. 2020-05-10.
↑ Apple to Reopen First Store in South Korea on April 18 by Juli Clover, AppleInsider. 2020-04-16.
↑ More than half of all Apple Stores worldwide have reopened by Michael Steeber, 9to5Mac. 2020-05-28.
↑ Apple might delay 'iPhone 12' launch by months due to COVID-19, report says by Mike Peterson, AppleInsider. 2020-03-25.
↑ You're...early., Apple Inc. 2020-04-16 4:47 PDT.
↑ Temporary Retail Store Closures, Apple Inc. 2020-04-16 5:07 PDT.
↑ Apple Stores in Minneapolis and Portland were hit by Rioters Overnight by Jack Purcher, Patently Apple. 2020-05-03.
↑ Apple Stores smashed and looted amid George Floyd protests by Malcolm Owen, AppleInsider. 2020-06-01.
↑ George Floyd mural on boarded up Apple store by Sergio Olmos, Twitter. 2020-06-01.
↑ Boarded up Apple Stores become unofficial canvases for peaceful protest by Michael Steeber, AppleInsider. 2020-06-03.
See also
External links