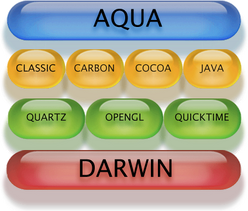 Aqua is the trade name for the graphical user interface (GUI) appearance of Apple's Mac OS X and macOS operating systems.
Features
As its name suggests, Aqua is based around the theme of water, with droplet-like buttons and other elements, and liberal use of transparency and reflection effects. Much of Aqua's original design was intended to complement the look of the original plastics of the iMac and Power Macintosh G3/G4 desktop models, but as Apple have moved to the use of brushed metal in their industrial design, Aqua itself has changed to incorporate an additional brushed metal look. This (somewhat inconsistent) mix of interface styles has been controversial with some users.
Two primary features of Aqua are the gel-like buttons (colored red, yellow, and green) that control the windows, and the Dock which facilitates navigation between applications.
There are two main styles of windows that Aqua includes: standard pinstriped and brushed metal. The standard pinstriped windows contain glass-like buttons that appear to sit on top of the window. The brushed metal variety has a gray gradient, and the buttons are sunken into the window. Also, instead of glassy buttons, brushed metal windows have more plastic-like buttons. Mac OS X also allows users to choose a Graphite version instead of an Aqua version of the interface. (In Graphite, window controls appear silverish-grey instead of red, yellow and green.) Aqua is the successor to Platinum, which was used in Mac OS 8, Mac OS 9 and Mac OS X Server 1.2.
Aqua is powered by the Quartz Compositor, which manages the underlying graphics management.
Misconception
Some refer to the Mac OS X GUI as a whole as Aqua. While this is certainly true, it is inaccurate. A GUI can have different themes (e.g. Aqua, Brushed Metal, etc...) and still be a GUI. Some refer to Aqua as the "bit visible to Mac users under OS X" or the "visible top" floating on top of others, such as the Classic, Carbon and Cocoa APIs. Actually, Aqua is but the GUI.
History
Origins
Aqua originates as early as the iMovie 2 application program, in which the buttons and scroll bar were presented with a shiny appearance prior to Mac OS X itself. It next appeared in the Mac OS X Public Beta in autumn of 2000,[1] and then iTunes in January 2001.
Aqua became standard with the official release of Mac OS X. The only portions that were non-Aqua were the classic Mac OS applications running under Mac OS X.[1] The Aqua appearance was also used in early versions of iPhone OS and iOS.
Evolution
With the release of iOS 7 in 2013, the glossy Aqua appearance had become flattened in favor of a cleaner look, though user interface arrangement and behavior remained mostly the same. This simpler aesthetic was carried over into Mac OS X with the release of OS X 10.10 "Yosemite" in 2014.[2]
See also
References
External links
Tutorials