California is the home state of Apple Inc., which has its headquarters based in the city of Cupertino.
Statistics
California is the 3rd largest state by geographical area in the United States and has been the most populous U.S. state since Apple was founded in 1976.[1]
Apple in California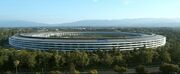 The state contains several of the most populous U.S. cities, such as Los Angeles, San Francisco, and San Jose, where Apple has held release events. Apple's annual Worldwide Developers Conference is typically held in Northern California and/or broadcast from or near its headquarters in Cupertino.[2][3][4] As of 2020, there are 53 Apple retail stores in California, more than any other U.S. state, or country.[5]
In November 2019, Apple committed US$ 2.5 billion to help combat the housing crisis in California.[6]
References
External links