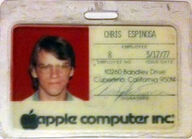 Christopher "Chris" Espinosa is the longest serving employee of Apple Inc., having joined the original Apple Computer Company at the age of 14 while still operating out of the home of the parents of Steve Jobs in 1976.[1]
Career
Espinosa met Steve Jobs at Paul Terrell's Byte Shop while the former was installing an Apple I, and later became friends with Steve Wozniak, despite having been warned against the two by his teachers at Homestead High School, where Jobs and Wozniak had also been students. In 1976, the 14-year-old Espinosa began working for Apple, making him one of the company's youngest employees. For a time during this early period of Apple, he and other employees slept underneath their desks. Officially, he was Apple employee number eight. He began writing BASIC programs in Jobs' garage, and has worked his entire life at Apple, with the exception of a brief hiatus during which he studied at the University of California, Berkeley,[2] where his freshman advisor was graduate student Andy Hertzfeld, who along with Barney Stone, had started a local Apple user group.[3]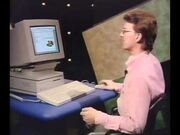 In 1981, Jobs convinced Espinosa to drop out of school to work full-time in Apple's publications department. Although Espinosa did not participate in the company's initial public offering, Wozniak had offered up to 2,000 pre-IPO shares at $5 a share to a group of 40 employees, including Espinosa, who he thought were undervalued, which became known as the "Woz Plan".[2][4] Espinosa has worked in a variety of different positions during his time at Apple, including as an AppleScript engineer and in developer support.[2] His other work includes contributions to the classic Mac OS, A/UX, HyperCard, Taligent, Kaleida Labs, AppleScript, Xcode, macOS, and the iOS Family Sharing system[5]. He is a frequent speaker at Apple's Worldwide Developers Conference and occasionally appears as a panelist at its Stump the Experts session.[citation needed]
As of 2018, Espinosa worked on iOS's Sign in with Apple system.[6]
Media portrayals
Espinosa was portrayed by Eddie Hassell in the dramatized film jOBS.[7]
References
See also
External links
Articles