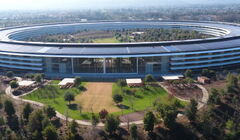 The City of Cupertino is the home of the headquarters of Apple Inc. in California.
Statistics
Cupertino has an estimated population of only 60,170 as of 2018.[1] However, the median home price at that time was US$2.3 million, more than 10 times the median of the entire United States.[2] As of 2020, there are 2 Apple retail stores in Cupertino, each located at one of the two Apple campuses.[3]
History
Cupertino was formerly a settlement named West Side. Since other towns were already using the same name, the local post office in 1904 adopted the name Cupertino from the original name of Stevens Creek, which was Arroyo San José de Cupertino.[6] With an influx of residents after World War II, the town was incorporated as the 13th city in the County of Santa Clara on October 10, 1955.[7]
Apple in Cupertino
The original founding documents for the Apple Computer Company were filed in April 1976 with the County of Santa Clara without specifying a city.[8] Apple co-founders Steve Jobs and Steve Wozniak had attended Cupertino Junior High School and Homestead High School in Cupertino, located in Santa Clara County. Some of the work of assembling their first product, the Apple I computer, occurred at the home of Jobs' parents in Los Altos, about 7 miles away, but within the Cupertino school district.[9] From the Apple II onwards in 1977, Apple's headquarters had been based in various locations within Cupertino. In 1993, the 1 Infinite Loop campus was opened.[10]
On June 7, 2011, with only months left to live, Steve Jobs personally lobbied the Cupertino City Council to approve the construction of a new campus, later known as Apple Park. Jobs revealed that Apple had acquired office buildings and adjacent properties vacated by Hewlett-Packard.[11]
In April 2017, Apple moved its headquarters less than 2 miles east to Apple Park (also known as Apple Campus 2).[10] Apple invested $75 million for infrastructure and transit improvements and $5.85 million for affordable housing, double of what was specified in their agreement with the Cupertino City Council. However, the rapid growth of the technology industry had led to traffic congestion and rising housing costs.[2]
References
↑ U.S. Census website. U.S. Census Bureau.
↑ 2.0 2.1 A dying mall near Apple's headquarters is turning into a fight over Silicon Valley's soul by Roland Li, San Francisco Chronicle. 2018-11-25.
↑ Apple Retail Stores, United States, Apple Inc. Accessed 2020-05-11.
↑ Before the spaceship: A look back at the previous campuses that Apple called home by Michael Steeber, 9to5Mac. 2017-11-13.
↑ Apple Park: Normal people like you can now visit by Shara Tibken, C|NET. 2017-11-17.
↑ Doyle's passion for history: How they named it Cupertino, Sunnyvale Scribe. 1977-12-07.
↑ Apple computer contract and dissolution of contract signed by Jobs, Wozniak and Wayne (3 documents), Sotheby's. 2011-12-13.
↑ Isaacson, Walter. "Steve Jobs", Simon and Schuster, 2015.

 

↑ 10.0 10.1 Before the spaceship: A look back at the previous campuses that Apple called home by Michael Steeber, 9to5Mac. 2017-11-13.
↑ Steve Jobs Presents to the Cupertino City Council (6 7 11) by City of Cupertino, YouTube. 2011-06-07.
See also
External links