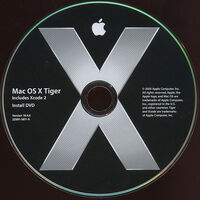 DVD-ROM (an acronym for Digital Versatile Disc Read-Only Memory) is an optical media format that was popular in the early 2000s, superseding the CD-ROM format.
Specifications
The standard data rate of a video DVD is 1,353 KB per second, about nine times that of a standard CD at 1x speed. DVDs can also be double-layered and/or double-sided to further increase capacity. Video DVDs may be region-coded to only play back in drives set to specific geographical regions.[2][3]
Capacity and nomenclature
SS = single-sided, DS = double-sided, SL = single-layer, DL = dual-layer
Designation
Sides
Layers (total)
Diameter (cm)
Capacity (GB)
DVD-1[4]
SS SL
1
1
8
1.46
DVD-2
SS DL
1
2
8
2.65
DVD-3
DS SL
2
2 (1+1)
8
2.92
DVD-4
DS DL
2
4 (2+2)
8
5.31
DVD-5
SS SL
1
1
12
4.70
DVD-9
SS DL
1
2
12
8.54
DVD-10
DS SL
2
2 (1+1)
12
9.40
DVD-14[5]
DS SL+DL
2
3 (2+1)
12
13.24
DVD-18
DS DL
2
4 (2+2)
12
17.08
History
Mac OS 8.1, released in January 1998, was the first classic Mac OS to include support for DVDs and the Universal Disk Format (UDF), superseding ISO 9660. Pioneer was the first company to manufacture DVD-ROM mechanisms for Macs.[6]
A DVD-ROM drive was first introduced as a build-to-order option in the "Beige" Power Macintosh G3 in November 1997, which included a custom AV personality card with a dedicated MPEG-2 decoder chip.[7] The first portable appearance was in the "Wallstreet" PowerBook G3 in May 1998. These were backwards compatible with CD-ROMs.[8]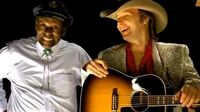 Apple introduced rewritable DVD-ROM drives under the "SuperDrive" brand with the 733 MHz Power Mac G4 in 2001. Apple released a firmware update in 2002 for older SuperDrives with Pioneer mechanisms to prevent recording problems when using high speed DVD-R media faster than 2x.[9] Lower-cost "combo" drives that could read DVDs and write CD-Rs were heavily promoted for the iMac G3 through Apple's "Rip. Mix. Burn" campaign.[10]
Deprecation
In 2008, Apple introduced a DVD±RW external USB SuperDrive for use with the MacBook Air, the first MacBook model to contain no optical drive mechanism. Though Blu-ray discs superseded DVDs in the consumer market, Apple did not adopt them and gradually phased out internal optical drives from its product line by 2012 with the following being the final releases:
Although Apple continues to offer its external USB SuperDrive as an option for Mac users, optical media is normally not supported by iPhones (and iPads).[11]
iOS and iPadOS usage
iPhone and iPad users can browse the contents of CD-ROM and DVD-ROM media with the Files app if the following conditions are met:[12]
The optical drive supports (and is set to) "Flash drive mode" or "TV mode" to make itself appear as a flash drive.
The drive is connected to its own power source, such as a powered USB hub, which is connected to the iPhone though a compatible adapter, such as a Lightning to USB Camera Adapter.
The disc is formatted as an ISO 9660 or FAT32 volume. Audio CDs are not supported, but the contents of MP3 CDs can be browsed and played back. The contents of unencrypted video DVDs and the multimedia partition of enhanced CDs can be browsed, but videos not encoded in a supported MPEG format will require a 3rd-party app for playback.[12]
References
↑ Installing OS X 10.4 Tiger on DVD-Challenged Macs Using FireWire Target Disk Mode by Charles W. Moore, Low End Mac. 2006-07-10.
↑ DVD Book A: Physical parameters. Mpeg.org. Retrieved on 2009-08-22.
↑ AVOS Companies – OSFAL Group. Archived from the original on May 28, 2008.
↑ Taylor, Jim. DVD Demystifed FAQ. Dvddemystified.com. Archived from the original on August 22, 2009. Retrieved on 2009-08-22.
↑ Pioneer Introduces the First Macintosh-ready DVD-ROM Drive Sub System in the Industry, Pioneer Corporation. 1997-05-09.
↑ DVD drive for Beige Power Mac G3 tower by Chris of AZ, Apple Communities. 2018-06-24.
↑ Low End Mac's Compleat* Guide to WallStreet PowerBooks by Charles W. Moore, Low End Mac. 2014-02-15.
↑ Apple SuperDrive Update, Apple Computer. 2002-10-24.
↑ Think Retro: RIP Rip, Mix, Burn by Christopher Phin, Macworld. 2015-06-10.
↑ Video: attempting to connect an iPhone to an optical disc drive, but will it work? by Christian Zibreg, iDownloadBlog. 2020-04-01.
↑ 12.0 12.1 12.2 Niles Mitchell video: iPhone to CD/DVD by Steve Sande, Apple World Today. 2021-01-18.
↑ Use the Files app on your iPhone, iPad, or iPod touch, Apple Support. 2020-03-24.
See also
External links