Apple Developer Transition Kits (DTK), sometimes previously called Developer Transition Systems (DTS), are custom-built systems made available to registered Apple Developers to facilitate processor transitions of the Macintosh platform. One highly-publicized transition moved from PowerPC to Intel processors in 2005 to 2006; the next transition will move from Intel to Apple processors in 2020 to 2022.
History
PowerPC to Intel transition
Main article: Apple's transition to Intel processors

Apple CEO Steve Jobs had made the surprise announcement at Apple's 2005 Worldwide Developers Conference that the company's Macintosh product line would be making a rapid transition from PowerPC to Intel processors. He stated that the PowerPC G5 was having trouble keeping up with Apple's product road map. To provide Mac OS X developers an early Intel-based system before consumer products became available, Developer Transition Kits became immediately available to lease for US$999. These units were the first Intel-based computers to be released by Apple Computer and were expected to be returned by the end of 2006, when Apple's Intel-based products were expected to ship.[1]
When the first Intel-based iMac shipped in 2006, it was offered as an exchange item to encourage developers to return their Developer Transition Kits. However, some units remained unreturned, even being used as Windows XP systems. The DTKs have since become rare collector's items.[2]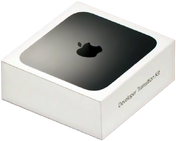 Intel to Apple Silicon transition
On June 22 at the 2020 Worldwide Developers Conference, Apple Senior VP Craig Federighi revealed a new Developer Transition Kit based on a Mac mini running the developer beta of macOS Big Sur on an Apple A12Z processor. The kit would enable registered developers to create, optimize, and test their apps on Apple Silicon during the earliest stages of the transition to Apple processors from 2020 to 2022, before consumer hardware was available.[3]
Specifications
Developer Transition Kit (2005)
Apple's official internal designation for the system is Apple Development Platform (ADP 2,1).[4] The unit is housed in a Power Mac G5 case, but with a much smaller logic board. It requires the Apple-supplied developer DVD-ROM to be in the optical drive in order to boot. Unlike shipping Intel-based Macs which used GUID-partitioned drives, the DTK booted from a MBR volume.[1]
Developer Transition Kit (2020)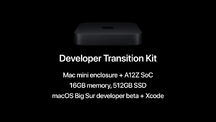 Identified in macOS Big Sur as an Apple Development Platform, the new 2020 Developer Transition Kit is housed in a black Mac mini enclosure.[3] The kit is available through Apple's Universal App Quick Start Program for $500. However, developers are not allowed to disassemble the device and are expected to return it after the Apple processor transition is over. It is also not eligible for tech support from Genius Bars at Apple retail stores as developers should contact Apple support directly for replacements.[5][6]
Gallery
References
See also
External links