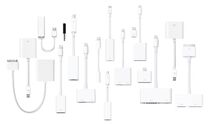 A dongle is a small piece of hardware that connects to a port on a computing device to provide it with additional functionality, or enable a pass-through to another device.[1]
History
Software protection
In computing, the term was originally associated with software protection dongles—a form of hardware digital rights management where a software program will operate only if a specified dongle—which typically contains a cryptographic protection mechanism that verifies a license key—is plugged in while the program is running.

MicroGuard ADB dongles were manufactured for classic Mac OS systems by Micro Macro Technologies, an Israeli company that was acquired by Aladdin Knowledge Systems in March 1999.[2] Harvey Lab acted as an agent for developers using MicroGuard dongles in Japan at the time.[3] Such protection dongles, also called "security keys",[4] were used by Apple Computer to protect developer tools for their short-lived Pippin console platform.[5]
Adapter dongles
The term has since been applied to other forms of devices with a similar form factor, such as adapters that convert ports to handle different types of connectors (such as DVI to VGA for displays, USB to serial connection, and in modern computing, USB-C to other types of ports, and Mobile High-Definition Link),[6] USB wireless adapters for standards such as Bluetooth and Wi-Fi (the term "stick" or "key" is more commonly used to describe USB flash drives, as well as modern forms of dongles with slimmer form factors more akin to flash drives), and small form-factor digital media players that plug into HDMI ports.
Apple has been known for its use of dongles during aggressive hardware transitions, starting in 1998 with the adoption of USB in the iMac G3, which discarded several legacy ports, such as ADB, GeoPort, and SCSI. Connection of older peripherals required adapter dongles until USB devices became commonplace.[7] This occurred in Apple's mobile product line in 2012, when the iPhone 5 replaced the popular 30-pin Dock connector with the Lightning connector.[8] In 2016, the iPhone 7 eliminated the headphone jack, requiring a dongle to use pre-existing wired headphones.[9] This also occurred with Apple's adoption of USB-C and Thunderbolt 3 across their Mac product line, resulting in criticism of the reliance on dongles.[10][11]
Memes of Apple's use of dongles
A talk show clip of El Risitas, re-captioned as a fictional "Apple engineer", has become a popular source of memes ridiculing Apple's use of dongles.[11][12]
References
↑ Watson, David Lilburn. "Digital Forensics Processing and Procedures: Meeting the Requirements of ISO 17020, ISO 17025, ISO 27001 and Best Practice Requirements", Newnes, 2013-08-30. (in en)

 

↑ Aladdin expands its business and improves security technologies, Sp0Raw's SiTE. 2003-08-08.
↑ What is MicroGuard, Harvey Lab. Archived 2001-06-24.
↑ Pippin @WORLD User's Manual, Bandai Digital Entertainment. 1996.
↑ Demystifying the Bandai Pippin Developer Dongle, Peter Wong. 2010-04-29.
↑ Lee, Dave. "Discussing the dongles", BBC News, 2016-11-07. (in en-GB)

 

↑ #1 Temporal Loop - Birth of the iMac by Thomas Hormby, The Mac Observer. 2007-05-25.
↑ Apple iPhone 5 gives the world a new connector: Lightning by Stephen Shankland, C|NET. 2012-09-12.
↑ Apple makes 23 different dongles — and it would cost you $857 to buy them all by Avery Hartmans, Business Insider. 2017-08-12.
↑ No Jack City... by Joshua Fruhlinger and Andrew Thompson, Ceros Originals. 2018-08-24.
↑ 11.0 11.1 Apple, the company once mocked dongles, is in love with them now by Selene Kyle, The TechNews, Medium. 2016-11-07.
↑ This Hilarious Meme Perfectly Explains Everything Wrong With Apple Right Now by Dustin Nelson, Thrillist. 2016-11-06.
External links
Community content is available under
CC-BY-SA
unless otherwise noted.