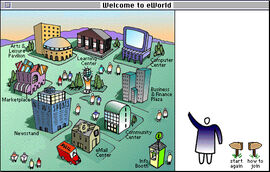 eWorld was a short-lived online service of Apple Inc. It began in June of 1994 and ended in March of 1996.
History
On January 5, 1994, Apple announced eWorld at the 1994 Macworld and went into operation on June 20. The software was based around a "town hall" theme where each of the services branches were individual "buildings". The software was Mac-only but a Windows version was promised to appear in 1995.
The town hall metaphor made eWorld simple to access and provided users with a strong sense of community. Several Mac software and hardware companies opened up virtual forums on the service to provide customer support and general product information to subscribers. The main eWorld portal also linked up to various news services.
The two most widely used parts of eWorld were the eMail Center and Community Center. The Community Center was an online BBS where thousands of ePeople (eWorld users) congregated to chat about various subjects. The eMail Center was a virtual post office and provided most ePeople with their first ever exposure to e-mail. The service also housed support and technical documents.
Discontinuation
Due to the end of the online service-era, Apple shut down eWorld on March 31, 1996 at 12:01 am. Apple's management decided that the product was doomed to fail in a market where America Online (AOL) had such a commanding lead. The company was also trying desperately to cut costs anywhere possible. Remaining eWorld subscribers were offered incentives to switch to AOL.
The eWorld and AppleLink technical support archives were moved to Apple's website. When Apple's Online Services Group was disbanded, many of its staff members left Apple. Peter Friedman eventually formed chat community website TalkCity with Chris Christensen and Jenna Woodul. Scott Converse became a senior executive at Paramount Pictures Digital Entertainment Division. James Isaacs joined Danger Inc. (acquired by Microsoft in 2008). Richard Gingras and Jonathan Rosenberg joined the newly formed broadband access venture @Home Network.[1]
In March 2020, AppleFritter opened a BBS that is an homage to the eWorld service.[2]
References
See also
External links