FaceTime is a video calling feature that was designed, developed and distributed by Apple for iOS, iPadOS, and macOS. It was first made available in 2010 on the iPhone 4 and 4th-generation iPod touch. It was also introduced to the iPad 2, and has been implemented on recent Mac models with a FaceTime camera (formerly known as an iSight camera). It is now avaliable for all devices running iOS 4 and later, iPadOS, or Mac OS X 10.6.6 or later.
Devices supported
FaceTime for iPhone

FaceTime was introduced with the iPhone 4 on June 7 at the 2010 Worldwide Developers Conference.[1] At the time, it only supported FaceTime calls to other iPhone 4's over Wi-Fi, it has since then been enabled over 3G and became available on latter models. In September 2012, Apple introduced the iPhone 5 with a FaceTime HD camera capable of 720p video.[2] In December 2020, the iOS 14.2 update unlocked the ability to make 1080p FaceTime calls on the iPhone 8 or later.[3]
FaceTime for iPod touch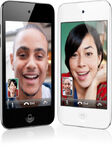 The 4th-generation iPod touch was announced at Apple's September 2010 event and was the first iPod touch with two cameras.[4] In 2012, the 5th-generation iPod touch was introduced with a FaceTime HD camera that supported 720p video.[5]
FaceTime for iPad

In March 2011, Apple announced the iPad 2, which featured the same two cameras as the 4th-generation iPod touch, with VGA resolution for FaceTime calls.[6] In October 2012, Apple announced the 1st-generation iPad mini, with a FaceTime HD camera that supported video calls at 720p, like Macs introduced in the previous year.[7]
FaceTime for Mac
FaceTime for Mac was released onto the Mac App Store in January 2011 for Snow Leopard users (10.6.6 or later) for US$0.99, it is also included in Mac OS X Lion for free. It had the ability to call other Macs with built-in cameras, along with the iPhone 4, 4th generation iPod touch, iPad 2, or later.[8] The 2011 MacBook Pros, released in February 2011, were to first to feature FaceTime HD cameras with 720p resolution.[9]
Gallery
References
External links