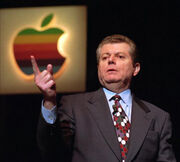 Dr. Gilbert Frank Amelio (born March 1, 1943) is an American businessman who was Apple Computer's CEO from January 1996 to July 1997.
Education
While studying for his Ph.D. at the Georgia Institute of Technology, Amelio collaborated in the invention of the charge-coupled device (CCD).[1][2]
Career
As CEO of National Semiconductor, Amelio turned around the money-losing company back to profitability. Apple was one of its major customers, and he joined the Apple Board of Directors on November 9, 1994.[3]
Amelio at Apple
On January 31, 1996, Apple Computer chairman Mike Markkula called an emergency meeting of the board, in which CEO Michael Spindler was replaced by Amelio. Because Amelio was still chairman and CEO of National Semiconductor at the time, he flew back to the company's headquarters in Santa Clara, California in Markkula's Falcon 900 jet to resign on February 2.[4][5] Apple co-founder and former chairman Steve Jobs then secretly met with Amelio to discuss the future of the company.[2]
During Amelio's tenure, Apple rolled out the Network Server 500 and 700 in an attempt to enter the high-end server market, released highly confusing Mac OS updates (notably Mac OS 7.5.3 and up to five different variants), introduced the first dual processor Mac, and released the PowerBook 1400, the PowerBook 2400c, and the Twentieth Anniversary Macintosh.
Advised by CTO Ellen Hancock, Amelio made the decision to pull the plug on the Copland and Gershwin projects, which had failed to produce a "modern Mac OS". Instead, the Apple Computer quickly shipped Mac OS 7.6 and acquired NeXT, which brought back co-founder Steve Jobs as an advisor to start work on Rhapsody, based on NeXTSTEP.
By June 26, 1997, Apple's market valuation reached a 12-year low after a $1.6 billion quarterly loss and an anonymous shareholder dumped 1.5 million shares of stock. On July 6, the Apple Board of Directors voted to remove Amelio as CEO.[6] Board member Steve Jobs threatened to fire everyone in the room if any news leaked prematurely.[7] Amelio resigned on July 8, and was replaced by Apple CFO Fred Anderson as acting CEO.[8]
Interviews
References
↑ "Experimental Verification of the Charge Coupled Device Concept", April 1970, pp. 593–600.

 

↑ 2.0 2.1 The Rise and Fall of Apple's Gil Amelio, Low End Mac. 2013-08-10.
↑ Today in Apple history: Turnaround artist Gil Amelio joins Apple's board by Luke Dormehl, Cult of Mac. 2019-11-09.
↑ Gil Amelio's Insanely Great Paycheck by Peter Burrows, Bloomberg. 1996-02-26.
↑ From Diesel to Doctor by Owen W. Linzmayer, Apple Confidential 2.0: The Definitive History of the World's Most Colorful Company, p.240. No Starch Press. 2004.
↑ Today in Apple history: After a horrible quarter, Gil Amelio gets the boot, by Luke Dormehl, Cult of Mac. 2019-07-06.
↑ The Inside Story Behind Steve Jobs's 1997 Macworld Keynote (Video), by Bryan Chaffin, The Mac Observer. 2015-11-10.
↑ Today in Apple history: Steve Jobs begins his path back to the top by Luke Dormehl, Cult of Mac. 2019-07-08.
Books
External links
Community content is available under
CC-BY-SA
unless otherwise noted.