The HomePod is a smart speaker system and digital assistant developed by Apple Inc. It operates through Siri and can stream audio from Apple Music or AirPlay from other Apple devices. Though announced on June 5 at the 2017 Worldwide Developers Conference, it did not begin shipping until February 9, 2018. It was superseded by the smaller HomePod mini in October 2020.
Development
Apple had prototyped the HomePod as a portable device with a battery, like the discontinued iPod Hi-Fi, but decided to produce it using solely a wired power source.[1]
Features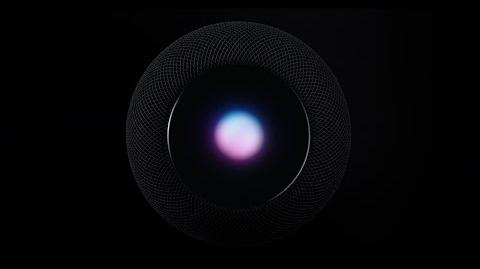 HomePod uses the Siri voice assistant for user input and functions as a smart home device. The outer casing is lined with mesh felt designed for aesthetics and acoustic performance. It comes in space grey and white.
The device has 7 built-in speakers, and one subwoofer with a custom amplifier. It also has 6 microphones to detect far-away voices. The device also comes with 16GB of storage and a equal amount of RAM. It is powered by the Apple A8 processor. On the top is a touchscreen interface with a halo-like Siri glow.
Technical Specs
Dimensions: 6.8 x 5.6 inches (172 x 142 mm)
Weight: 5.5 pounds (2.5 kg)
Color: Space gray, white

High-excursion woofer with custom amplifier
Array of seven horn-loaded tweeters, each with its own custom amplifier
Six-microphone array for far-field Siri
Internal low-frequency calibration microphone for automatic bass correction
Direct and ambient audio beamforming
Transparent studio-level dynamic processing
Market reception
The HomePod's competitors in order of sales are: the Echo lineup from Amazon, the Home lineup from Google, and the Galaxy Home from Samsung. The HomePod's price was lowered from US$349 to $299. Due to declining sales after the introduction of the HomePod mini, Apple announced on March 13, 2021 that the original HomePod would be discontinued and that sales would be limited to remaining supply.[2]
References
External links