International Business Machines (IBM), also referred to a "Big Blue", is a multinational technology company headquartered in Armonk, New York. It is commonly associated with having created the PC platform, though it sold its personal computer division to Lenovo in 2005 and shifted focus to the enterprise market.
History
Early history
The predecessor to IBM was founded on June 16, 1911 as the Computing-Tabulating-Recording Company in Endicott, New York through the merger of several companies involved in the manufacture of mechanical tabulating machines. The name International Business Machines was first used by a Canadian subsidiary in 1917 and adopted by the parent company in an application to the New York Stock Exchange on February 5, 1924.[1]
Personal computer industry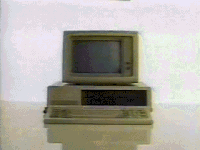 IBM's inventions over the years include the hard disk drive, dynamic RAM, and UPC bar codes.[2] On April 7, 1964, IBM introduced its first mainframe computer, the System/360. The first IBM Personal Computer (model 5150) was introduced on August 12, 1981, partly in response to Apple Computer's success with the Apple II series. Apple ran ads congratulating IBM in entering the personal computer market.[3] With Apple's introduction of the Macintosh in 1984, co-founder Steve Jobs often criticized the complexity of using PCs.[4] In response, IBM unveiled their updated Personal System/2 with OS/2 on April 2, 1987 at the Hyatt Regency in Santa Clara. However, the 1987 Apple Developers Conference was being held next door at the Santa Clara Convention Center and several Apple employees infiltrated the IBM launch event.[5]
As clone manufacturers crowded with market with PC compatibles and peripherals, IBM spun off its printer division into Lexmark on March 27, 1991.[6] On October 2 of that year, Apple, IBM, and Motorola formed the AIM alliance to develop PowerPC processors to counter Microsoft's and Intel's growing duopoly of their "Wintel" platform.[7] The director of the PowerPC program at IBM was Bob Mansfield,[8] who would later join Apple.[9] IBM's last contribution to the alliance was the PowerPC G5 processor. However, when IBM encountered difficulties in keeping up with Apple's product roadmap, Apple CEO Steve Jobs announced that the company would switch to Intel processors at the 2005 Worldwide Developers Conference.[10] On May 1, 2005, IBM's personal computer division was sold to Lenovo, based in China.[11]
References
External links
Articles