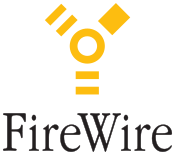 The IEEE 1394 interface is a serial bus interface standard for high-speed communications and isochronous real-time data transfer, frequently used by personal computers, as well as in digital audio, digital video, automotive, and aeronautics applications. The interface is also known by the brand names of FireWire (Apple), i.LINK (Sony), and Lynx (Texas Instruments). IEEE 1394 replaced parallel SCSI in many applications, because of lower implementation costs and a simplified, more adaptable cabling system. The 1394 standard also defines a backplane interface, though this is not as widely used.
Community content is available under
CC-BY-SA
unless otherwise noted.