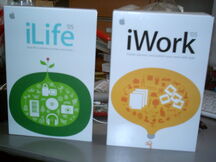 iLife '05 is a Digital Hub software collection from Apple Computer. It was released on January 11, 2005, during the Keynote speech at the Macworld Conference & Expo San Francisco 2005 in San Francisco, California, USA.
Included software
The software components of iLife '05 are:
See also
iWork '05, the corresponding productivity suite from Apple.
Media Browser, a floating palette for managing media assets.
External links