iOS 15 is the fifteenth major version of iOS that was released by Apple on September 20, 2021, succeeding iOS 14. The mobile operating system was announced on June 7 at the 2021 Worldwide Developers Conference.[3]
New features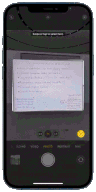 Newly announced features include:[3][4]
SharePlay feature allows shared viewing of video or listening of music with friends during FaceTime connections.
Focus settings allow users to block distractions while working or doing other activities.
Notifications organized by priority, based on user interactions.
Live Text automatically recognizes written or printed text in images or photos that can be converted into selectable text.
Redesigned Safari interface.
More Privacy controls.
Redesigned

Weather

and Notes apps.
History
Development
The forthcoming existence of iOS 15 was discovered within the source code of a WebKit update.[6] In Spring 2021, Apple began beta testing its anti-tracking privacy feature to shield user information from websites.[7] However, this feature was already deployed with the release of iOS 14.5 on April 26, 2021.[8] Facebook reportedly planned to file a lawsuit against Apple's tracking feature changes as unfair.[9]
The iOS 15.4 update was released in March 2022 with support for Tap to Pay on iPhone. It also added support for Face ID while wearing a mask, though the feature is presently limited to the iPhone 12 series and higher.[10][11]
Supported devices
Contrary to early reports,[12] iOS 15 will support all previous models that could support iOS 13 or 14. Features that require newer hardware, such as spatial audio, will be disabled in older models, such as the iPhone 6S.[13]
References
See also
External links