iOS 4 Codenamed "Apex" was the 4th major release of iOS designed and developed by Apple for the iPhone, iPod touch and iPad, being the predecceesor to iOS 5 and the succeesor to iPhone OS 3. It was for the iPhone 3G or later, iPod Touch (2nd Generation) or later, and all iPads (iOS 4.2.1 or later only). The update was free and included a multitude of new features. The features included, but were not limited to:
Multitasking
Folder Organisation
Multiple Mail Boxes
support for iMovie (available in the App Store)
Creation of Playlists
5x Digital Zoom for Camera (iPhone 4 and iPod Touch 4G)
LED flash (iPhone 4 only)
Tap-Focus for video
Picture Identification
Homescreen Wallpaper
Ability to 'Gift' Apps
Spell Check
Bluetooth Keypad
Ability to rent movies
FaceTime (iPod Touch (4th generation) and iPhone 4 only)
Personal hotspot (iPhone 4 only)
The iOS 4 round of updates had finished, it stated with iOS 4.0 and concluded with 44.3.5 (iPad 2 only) and 4.3.4 (all other devices (excluding iPhone 3G and iPod Touch (2nd generation), it was preceded with the iOS 5 round of updates with iOS 5.0 being released on 12 October 2011.
Features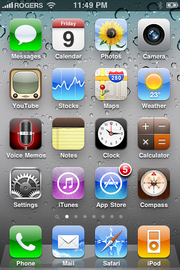 Notifications
All notifications concentrated to Notification Center: swipe downwards from the status bar to open it. Notification center shows a list of all notifications and widgets (widgets available only on iPhone & iPod Touch).
Notification order can be arranged.
Choose Notification Type: Banner notifications, the classic pop-up notifications, or no notification at all (selectable on an app-by-app basis).
Notification list on lock screen. Swipe an icon to unlock and go to the specific notification.
Notifications announcing earthquakes with 2 minutes early (only in Japan).[72][73]
Messages
Messaging between all iOS devices running iOS 5 through Wi-Fi or 3G. Allows to send text, photos, videos, contacts, and locations.
All iMessages and conversations will be synced between all iOS devices linked under a single Apple ID. You can start a conversation on one device and continue it on another.
Can message between multiple people simultaneously (group messaging).
Shows when other person(s) is typing.
Delivery receipts.
Optional read receipts (enable in Settings).
Animated GIF image support for iMessage.
Ability to set how many times an alert will be shown when a new message is received (ranges from once to ten times).
The name of the person that responds appears in small light blue text directly above the response when SMS is sent to a group.
Slight redesign for text messages. Font & time-stamp layout.
Hide keyboard; hidden by downwards scrolling in message screen (after being used to type a message). Unhidden again by tapping in text entry field.
Newsstand
A new icon on SpringBoard, which opens to an iBooks-inspired folder which shows all papers and magazines downloaded from the App Store.
Subscriptions to newspapers and magazines available for browsing and downloading in a dedicated section of the App Store, stored in the Newsstand folder.
Reminders
"To-Do list" functionality in Reminders app.
Date-based reminder notifications.
Location-based reminder notifications that can be set to when you leave, or arrive a specified area (iPhone 4 & iPhone 4S only).
Twitter integration
Tweeting from native applications: Photos, Camera, YouTube, Maps, and Safari using new Tweet Sheet which supports multiple accounts.
Music
iPod app renamed to Music (iPhone & iPad only; was already named Music on iPod Touch).
iPod app now split into Music and Videos (iPhone only; was already split on the iPad & iPod Touch pre-iOS 5).
Video podcasts can only be found in the Videos app.
Ability to play content while the device is synchronizing with iTunes.
Ability to delete songs from device (by swiping over the corresponding song).
Tap and hold on a song to view extended song information (iPhone & iPod Touch only).
Long names scrolling in now playing.
Album artwork now displays in full resolution (Retina Display only) on Now Playing screen.
Broadcast song information on devices (e.g. car stereo) when connected over Bluetooth.
Improved Sound Check for Music.
"Group by Album Artist" option for Music.
iTunes Store button has been added to the Music app.
Removed ability to view lyrics (on iPad).
Camera
Volume-up key as shutter release button to take photos (also works using headphone remote volume up button). Also works for starting/stopping recording of videos.
Shortcut to Camera app from lock screen, accessed by double-clicking the home button (iPhone & iPod Touch (4th generation) only).
Grid composition aide (3x3).
Spread to zoom-in, pinch to zoom-out.
Swipe left to reveal camera roll.
Tap and hold to lock/unlock Auto Exposure and Auto Focus.
Options button added, HDR toggle and Grid composition aide toggle.
New Camera button on Photos app that returns to Camera instead of a "Done" button (was on OS before this) to close the Camera Roll.
Face detection and video stabilization (iPhone 4S only).
Maps
Print maps.
Alternate routes.
Traffic.
Calendar
Can now create, rename, and delete calendars right on the device.
Tap and hold or double-tap to create a new event.
Tap and hold in "all-day events" to create a new all-day event.
Drag appointments to a new time slot.
Drag handles to change start and end times.
Creating new Event, now an "Invitees" field; takes to screen for multiple email address entry, emails sent to all invitees once event is saved.
Invitee can "Accept"/"Decline"/"Maybe"; reply sent to iCloud servers then reflected for all invitees to see.
Calendar event on device lists those invitees accepting event.
All users on iOS 5.x devices get notification when event is nearing.
Ability to specify a time zone to events.
Ability to add URLs to events.
Current time on Calendar if in landscape mode.
Navigate in day view by swiping.
Event attachments can now be viewed directly in the app.
Share calendars through iCloud with friends and family. Edits made by subscribers to that calendar are updated and pushed to other subscribers of that calendar (can be disabled by the creator of the calendar and locked so others cannot make edits).
Japanese or Buddhist calendars support.
Mail
Rich text formatting (bold, italics, and underline).
Indentation control.
Ability to mark multiple mail items as read.
Ability to flag emails.
Draggable mail address in the recipients field.
Alert if the subject line is blank.
Search now includes body of messages.
Delete mails while in Airplane mode.
Exchange Activesync Email can now be deleted offline.
Can create new email folders.
Mail sidebar.
S/MIME support.
Ability to show 1000 recent messages; 25 message option removed.
Ability to create additional @me.com email address within the Mail settings.
Ability to increase quote level in Mail settings.
New and updated tiny icons on Mail for Windows Live Mail, Gmail, Exchange, etc.
Hotmail accounts now have new icons and folders.
While reading an email you can swipe right to open a list of messages and swipe left to bring back the open email message again.
If you have multiple email accounts configured in Mail.app, swipe left or right from one's mailboxes folder list, it will take you to another account's mailboxes.
Support for three popular Chinese email services: Tencent's QQ Mail, and Netease's 163.com & 126.com mail inboxes.[74]
Photos
Built-in basic photo editing: crop, red-eye, auto-enhance and rotate photos.
Ability to create and edit local photo albums folders (only those that aren't synced with iTunes).
Ability to sync pictures taken on one iOS device automatically with other iOS 5 devices using Photo Stream.
Ability to select all when adding pictures to an album.
Slight re-design for video time-line under Photos app.
Safari
Safari Reader: new "Reader" icon appears in address bar if Safari detects a webpage article, removing need to click-through to each page. Scrollable window sheet appears over current webpage showing all article pages together separated by page breaks, removing ads and page clutter.
Ability to change font size in reader mode.
Reading List: a new area of the bookmarks window has been added, purposed for pages you might want to read later. New pages can be added from a new option in the action menu or when long-pressing on a link.
Items from the Reading List can be synced to iCloud to be pushed to all of your other iOS devices.
Safari bookmarks can be synced to iCloud.
Ability to open pages in background or in new page (change in Settings).
Ability to replace a word with a word from a list of similarly spelled words spellings when typing in a text box on a web page.
Private Browsing; interface colors change from blue to black (change in Settings).
Ability to remove custom website data.
CSS fixed position support.
Slight fade out at end of long URLs (instead of ellipses) in the address bar.
Super fast HTML5 draw support.
Kinetic scrolling within text fields in Safari.
iCloud
iTunes, iBooks (books & progress), App Store, Photo, Contacts, Calendar, Notes, Reminders, Mail, Safari (bookmarks & Reading List), Settings, app data, iWork, and backup data; saved in iCloud to automatically or manually download to all linked devices (iOS & Mac/Windows PCs).
All iMessages and conversations will be synced between all iOS devices linked under a single Apple ID. You can start a conversation on one device and continue it on another.
Backup homescreen layout on iCloud.
Document sync.
Ability to buy more storage.
Free upgrade to 256 kbps bit rate for iTunes purchased songs if backing up on iCloud.
File names in iCloud Storage are case-sensitive.
Documents/data can now be selected to sync with iCloud account.
Option to disable iCloud Sync via cellular network to save cost, especially if roaming.
Game Center
Photos for Friends.
Ability to make your Profile public or private.
Points in Game Center: shows you how many points you have on the home screen of Game Center.
Sort and view Friends on the basis of Points.
Friend recommendations.
Game recommendations.
Games can be purchased from within Game Center.
New Friend requests screen.
Native support for turn based games.
Settings
Help Center: learn more about every option under settings app to explore more about it.
New menu under Location Services called System Services where certain services can be toggled on or off (such as setting the time-zone, location-based iAds, Diagnostics, etc.).
Hearing Aid Mode.
Ability to rename your device.
Ability to set up an AirPort base station or Time Capsule devices.
Ability to organize Notification Center items "Manually" or "By Time".
Can select which apps can be included in Notification Center.
Can select which type of notification will be used for each app: banner notification, classic pop-up style notification, or no notification.
Ability to turn off app badges.
On the "Ringtone" and "Text Tone" page, instead of showing "new", they are all in one category now.
Custom sounds for New Message, New Voicemail, New Mail, Sent Mail and Reminders alerts.
Ability to purchase text, email, and voicemail alert tones.
Under "Mail, Contacts, Calendars", on the bottom it shows "Reminders" and gives an option to Sync.
In the "Messages" section, the "Alerts", "Show Preview", and "Repeat Alert" options have been removed.
The Usage screen is improved and now shows how much of the memory is consumed by each app.
Storage usage clean up.
Backup to iCloud shortcut added.
Photo Stream settings.
New purchases Settings; automatically download new purchases made on other devices (for music, apps, and books). This can also be enabled or disabled for use on cellular when not connected to Wi-Fi.
Twitter sign-in OS-wide with support for multiple Twitter accounts.
Ability to set left or right for mono audio.
Ability to turn on/off sending of iOS diagnostic data to Apple.
Keyboard
Ability to create keyboard shortcuts to replace custom phrases. By default includes "omw" which expands to "On my way!".
Emoji keyboard no longer requires an app to enable it (regarding non-Japanese devices).
Define your own words in Offline Dictionary.
New keyboard with prominent # (hash-tag) and @ (mention) buttons for Twitter app similar to the ".com" button when entering an address into the Safari address bar.
New Chinese-Pinyin keyboard spreading.
Quick Chinese input method.
List of associated words show on the top of Chinese input keyboard.
Function to convert voice to text (iPhone 4S only).
PC-Free
iTunes/USB no longer needed to activate new devices via a computer.
New welcome screen when using the device for the first time (or after resetting a device).
Ability to start fresh with no need to tether it to iTunes. Option to restore all data on a device from an iCloud backup through a simple iCloud sign in.
Ability to wirelessly sync to iTunes over Wi-Fi added (an initial tethered sync is needed to pair them together and the setting must be enabled in iTunes).
OTA delta updates: from iOS 5 forward, devices can now self-update the system software right on the device itself through Wi-Fi or 3G; no iTunes or computer needed.
YouTube
Ability to play 480p/720p videos over 3G (iPhone only).[75]
Scrolling titles for YouTube videos.
Seek bar fine scrubbing visual notification has been added.
FaceTime
Improved video quality.
Ability to set your FaceTime caller-ID to be your email or your phone number.
Ability to mirror the FaceTime call on large screen.[76]
iTunes/App Store
iTunes Tone Store.
New Purchased History section.
Genius support for finding songs and apps similar to ones users have purchased previously.
Ability to completely disable in-app purchases.
iTunes password prompt.
Restrictions with password needed for purchases if enabled.
Shows "Install" instead of the price for previously purchased apps. Shows "Installed" for installed apps.
Additional "iForgot" button on App Store if a user has forgotten their Apple ID password.
Simultaneous app downloads.
Custom tones for almost everything under "Sounds" with "Buy more tones" button.
Music app now has a "Store" button that goes to the iTunes Store.
Contacts
Add family relations ("related names") to contacts.
Add social media info into contacts.
VoiceOver
VoiceOver item chooser.
VoiceOver action support.
Arabic language support for VoiceOver.
Option to speak text selection.
New voices for VoiceOver.
Bluetooth
AVRCP 1.4 supported (sends track and artist info to supported devices).
Minor improvements/bug fixes
New rounded UI switch graphic.
Ability to use the device while syncing.
Spotlight search now includes Reminders and searches through Messages.
Built-in system-wide dictionary; in the typical Cut/Copy/Paste pop-up when selecting text, there is a new option to "Define". Define brings up a view with definition of the selected word.
Ability to delete app data.
Fixed a bug that caused a song to crash for a second while switching to another application in the multitasking tray.
Apps fade to home screen when they crash, rather than flicking off.
Option to automatically set the time (new for Wi-Fi only devices).
Switching the ringer switch to "on", the indicator now shows the volume level bar (iPhone & iPad only).
Screenshots are saved using the device's orientation (previously, all screenshots were saved as if the device was in portrait mode).
Hindi virtual keyboard based on standard InScript layout.
iPhone & iPod Touch only
Notification Center
Option to display Stock & Weather widgets in Notification Center. Swipe weather left or right to get five day forecast.
Calendar
Week view in landscape orientation.
Clock
Ability to pause Timer.
Tbilisi, Georgia added to World Clock.
Weather
Weather for user's current location.
Hourly updated weather of 5 day forecasts.
Stocks
Real-time stock updates.
iPhone only:
Siri voice control (iPhone 4S only)
Classed as beta software during whole of iOS 5.x.
Voice commands are now executable for different users on device.
Device can now translate voice into text and vice-versa.
Available in English (UK, US, and Australia), French, and German.
Phone
Enable/disable option for voice-dial if the device is set to security with passcode lock.
Delete individual calls in "Recents" Phone app. Clear button is now Edit button.
Make FaceTime calls without a micro-SIM card.
"Unsecured Calls" warning lets users know if they are talking on unencrypted networks.
Shows city name or area/county in addition to number for unknown calls.
Time-mid call invitation alerts.
Messages
Option to have iMessages sent as SMS when iMessage is unavailable (enable in Settings).
Placeholder text indicates whether sending "iMessage" or "Text Message" (i.e. SMS/MMS message) in Messages.
SMS/MMS bubbles are green in color, iMessage bubbles are baby blue.
General
Customized vibrate alert patterns (can be set per-contact).
LED flash alerts (iPhone 4 & iPhone 4S only).
Assistive touch gestures.
iPod Touch only:

New "Message" option to use iMessage using an email ID, in Settings (for iPod Touch).

iPad & iPad 2 only:

Split keyboard: swipe up or pull apart to split keyboard in half.
Undock keyboard option: keyboard can now be moved up and down the screen.
Mail
Swipe right to reveal Inbox when in portrait orientation.
Calendar
Swipe left and right to change months.
Year view with heat map colors to show busy/free status.
Safari
Tabbed browsing.
Tapping and holding the back or forward buttons in Safari will show recently visited website history.
Tapping and holding the new tab button will show a list of recently closed tabs.
Music
All-new user interface.
Quickly skip to previous or next track by swiping left or right (respectively) on album art when in the Now Playing screen in the Music app.
Picture frame
Ability to pick an event.
Multitasking gestures with 4 or 5 fingers: (iPad 2 only until iOS 5.0.1)
Pinch to return to the Home screen.
Swipe up to open multitasking tray.
Swipe left or right to move between open apps.
Videos
Ability to play 1080p content.
Limitations on older models
Some features were unavailable on the iPhone 3G and iPod touch (2nd generation):
Compass (disabled)
Voice Control (disabled)
Nike + iPod (Disabled only on iPhone 3G)
Game Center (Disabled only on iPhone 3G)
Support

The 1st generation iPhone and iPod touch were not supported in this release.
The iPhone 3G and 2nd generation iPod touch had limited support.
All the iPads, 3rd and 4th generation iPod touch, iPhone 3GS, and iPhone 4 were all fully supported
End of support
iOS 4's support was ending as of October 4, 2011. iPhone 3GS, iPhone 4, iPod touch (4th generation), iPad 2 Wi-Fi and iPad 2 Wi-Fi + 3G were concerned that iOS 5 was going to come and be an update. Soon, iOS 4 was completely discontinued. Its features were moved to iOS 5. (See List of unsupported firmware)
Discontinuation
iOS 4 was still supported for a limited time from June 6, 2011, to October 10, 2011. Apple made it unsupported to release iOS 5 (iOS's 5th and next level), having released 5.0 on October 12, 2011. All services were moved to iOS 5 and iCloud.
Trivia
Initial release on iPhone 4 and iPod touch (4th generation).
Limited support for iPhone 3G and iPod touch (2nd generation)
This was the 2nd release to drop support for some devices.
Recent version was un-available for the CDMA version of the iPhone 4.
This Is The Last IOS To Feature IPod And Voice Control.
This Is The Last IOS To Have The Mona Lisa Wallpaper On Settings.
This Is The First IOS To Introduce Home Screen Wallpaper On Settings And Home Screen.
This Is The First IOS To Use Multitasking.
External links
Community content is available under
CC-BY-SA
unless otherwise noted.