The 4th-generation iPad (marketed as iPad with Retina display and colloquially referred to as the iPad 4) is a tablet computer designed, developed, and marketed by Apple Inc. It was announced on October 23, 2012 as the fourth generation of the iPad line, succeeding the third-generation iPad. Units started shipping on November 2, 2012. The 4th-generation iPad includes a Retina display, the new Apple A6X chip, and the Lightning connector introduced with the iPhone 5. It first shipped with iOS 6.0, which provided a platform for audio-visual media, including electronic books, periodicals, films, music, computer games, presentations and web content. More recent builds shipped with iOS 7.0.[1]
The 4th-generation iPad follows the same pricing model as its predecessor. The third generation was discontinued following the fourth generation's announcement. On February 5, Apple announced a 128 GB model for $799 and a cellular for $929.
Product history
On October 16, 2012, Apple announced a Apple Special Events in 2012#October 2012Imedia event scheduled for October 23 at the California Theatre in San Jose, California. The company did not predisclose the subject of the event, but it had been widely expected to be the iPad mini. Apple CEO Tim Cook introduced a new version of iBooks and new generations of the MacBook Pro, Mac mini, and the iMac, before announcing the 4th-generation iPad and the iPad mini.
End of support
On November 1, 2021, Apple internally declared the 4th-generation iPad and late 2012 Mac mini to be obsolete, officially ending further hardware support for those products.[2]
Features
Software
The 4th-generation iPad first shipped with iOS 6.1. It can act as a hotspot with some carriers, sharing its internet connection over Wi-Fi, Bluetooth, or USB, and also access the App Store, a digital application distribution platform for iOS developed and maintained by Apple. The service allows users to browse and download applications from the iTunes Store that were developed with Xcode and the iOS SDK and were published through Apple. From the App Store, GarageBand, iMovie, iPhoto, and the iWork apps (Pages, Keynote, and Numbers) are available.
The iPad comes with several pre-installed applications, including Siri, Safari, Mail, Photos, Video, Music, iTunes, App Store, Maps, Notes, Calendar, Game Center, Photo Booth, and Contacts. Like all iOS devices, the iPad can sync content and other data with a Mac or PC using iTunes, although iOS 5 and later can be managed and backed up without a computer. Although the tablet is not designed to make phone calls over a cellular network, users can use a headset or the built-in speaker and microphone and place phone calls over Wi-Fi or cellular using a VoIP application, such as Skype. The device has dictation, using the same voice recognition technology as the iPhone 4S. The user speaks and the iPad types what they say on the screen provided that the iPad is connected to a Wi-Fi or cellular network.
The 4th-generation device has an optional iBooks application, which displays books and other ePub-format content downloaded from the iBookstore. Several major book publishers including Penguin Books, HarperCollins, Simon & Schuster and Macmillan have committed to publishing books for the device. Despite being a direct competitor to both the Amazon Kindle and Barnes & Noble Nook, both Amazon.com and Barnes & Noble offer e-reader apps for the iPad.
Hardware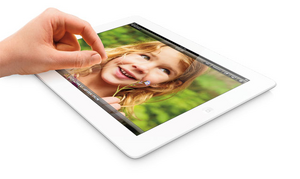 There are four physical switches on the 4th-generation iPad, including a home button near the display that returns the user to the home screen, and three plastic switches on the sides: wake/sleep and volume up/down, plus a software-controlled switch whose function varies with software updates. The display responds to other sensors: an ambient light sensor to adjust screen brightness and a 3-axis accelerometer to sense orientation and to switch between portrait and landscape modes. Unlike the iPhone and iPod Touch's built-in applications, which work in three orientations (portrait, landscape-left and landscape-right), the iPad's built-in applications support screen rotation in all four orientations, including upside-down. Consequently, the device has no intrinsic "native" orientation; only the relative position of the home button changes.
The tablet is manufactured either with or without the capability to communicate over a cellular network; all models can connect to a wireless LAN. The 4th-generation iPad optionally has 16, 32, or 64 GB of internal flash memory, with no expansion option. Apple sells a "camera connection kit" with an SD card reader, but it can only be used to transfer photos and videos.
The device has an Apple A6X System on a chip|SoC with dual-core CPU and quad-core graphics processor; a 5-megapixel, rear-facing camera capable of 1080p video recording; and a 720p HD front-facing videophone camera designed for FaceTime. The display resolution is 2,048 by 1,536 (QXGA) with 3.1 million pixels – four times more than the iPad 2 – providing even scaling from the prior model. The new iPad is thicker than its predecessor by 0.6 mm and is heavier by 51 grams for the Wi-Fi model (652 grams).
The Cellular models (both at 662 grams) are 49 grams heavier for the AT&T model and 55 grams heavier for the Verizon model compared to the respective iPad 2 3G models (AT&T 3G iPad 2 is 613 grams, and Verizon 3G iPad 2 is 607 grams).
The audio playback of the 4th-generation iPad has a frequency response of 20 Hz to 20,000 Hz. Without third-party software it can play the following audio formats: HE-AAC, AAC, Protected AAC, MP3, MP3 VBR, Audible formats (2, 3, 4, AEA, AAX, and AAX+), ALAC, AIFF, and WAV. A preliminary tear-down of the third-generation iPad by IHS iSuppli showed the likely costs for a 16 GB Cellular model at $358.30, 32 GB at $375.10, and 64 GB at $408.70 respectively.
This iPad uses an internal rechargeable lithium-ion polymer (LiPo) battery. The batteries are made in Taiwan by Simplo Technology (60%) and Dynapack International Technology. The iPad is designed to be charged with a high current of 2 amps using the included 10 W USB power adapter and USB cord with a USB connector at one end and the new Lightning dock connector at the other end. While it can be charged by an older USB port from a computer, these are limited to 500 milliamps (0.5 amps). As a result, if the iPad is in use while powered by a computer, it may charge very slowly, or not at all. High-power USB ports found in newer computers and accessories provide full charging capabilities.
Apple claims that the battery can provide up to 10 hours of video, 140 hours of audio playback, or one month on standby; people say the battery lasts about 8 hours doing normal tasks. Like any rechargeable battery, the iPad's battery loses capacity over time. However, the iPad's battery is not user-replaceable. In a program similar to iPod and iPhone battery-replacement programs, Apple promised to replace an iPad that does not hold an electrical charge with a refurbished unit for a fee of US$99 plus $6.95 shipping. User data is not preserved/transferred. The refurbished unit comes with a new case. The warranty on the refurbished unit may vary between jurisdictions.
Accessories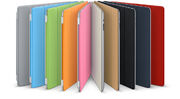 The Smart Cover, introduced with the iPad 2, is a screen protector that magnetically attaches to the face of the iPad. The cover has three folds which allow it to convert into a stand, which is also held together by magnets. The Smart Cover can also assume other positions by folding it. Smart Covers have a microfiber bottom that cleans the front of the iPad, and wakes up the unit when the cover is removed. It comes in five colors of both polyurethane and the more expensive leather.
Apple offers several other accessories, most of which are adapters for the proprietary Lightning connector, the only port besides the headphone jack. A dock holds the iPad upright at an angle, and has a dock connector and audio line-out port. The iPad can use Bluetooth keyboards that also work with Macs and PCs. The iPad can be charged by a standalone power adapter ("wall charger") compatible with iPods and iPhones, and a 10 Watt charger is included.
Reception
The 4th-generation iPad was immediately met with criticism from some owners of the preceding 3rd-generation iPad, who felt betrayed that Apple would release a newer product after they had purchased what had previously considered a flagship product for about 7 months. The media labeled these users as "whiny" since Apple is known to regularly update its product lines as improved technologies become available.[3][4]
References
External links