The iPad 2 is a device marketed and distributed by Apple. It is the second generation of the iPad, and features: FaceTime, VGA Camera, HD camera and Gyroscope. The iPad 2 started at $499 for the base 16GB Wi-Fi model; models with 32GB and 64GB of storage and 3G cost more (with the 64GB 3G model costing $829). It is available on both Verizon and AT&T. The iPad 2 has 10 hours of battery life for Wi-Fi version and 9 hours for 3G and offers 1080p HDMI video output. Steve Jobs announced the iPad 2 on March 2nd, 2011.
New features
A big feature on the iPad 2 is FaceTime (which also means camera capabilities). It had been slimmed down to less than 9 millimeters, thinner than the iPhone 4 and iPhone 4S. It also had 9x faster graphics and was 2x faster than the original iPad. The weight of the new iPad has been dropped from 1.5 pounds to 1.3 pounds. It also has Photo Booth built into it, a popular app from the Mac, and iMovie and GarageBand are sold separately. Also, iPhoto for iOS supports the iPad 2.
Pricing grid
Pricing Grid

Black iPad 2

White iPad 2

WiFi

3G

WiFi

3G

16GB
16GB
16GB
16GB
$399
$529
$399
$529
Smart Covers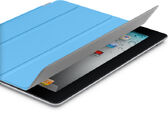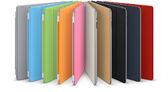 The Smart Cover is the new case for iPad. It has built-in that magnets draw the Smart Cover to iPad for a perfect fit that not only protects, but also wakes up, stands up, and brightens up your iPad. You also have the option to take the smart cover off if you don't want it there. They come in 5 polyurethane colors (Pink, Orange, Green, Blue, and Gray.) and 5 leather colors (White, Cream, Black, Navy, and (PRODUCT)RED It slides right on and auto-aligns. You can fold it for a typing stand, and a FaceTime and Movie watching stand. Also, when you close it the iPad automatically goes to sleep and when you open it the iPad instantly wakes up. The slim yet sturdy Smart Cover protects your iPad screen without covering up its durable aluminum back.
iMovie
iMovie on the large iPad screen is full of features that make editing HD movies fast and fun. The Multi-Touch Precision Editor gives you the control to make the perfect cut. Edit multiple audio tracks with waveforms that let you see what you're hearing. And discover many other features — from dynamic themes to direct HD sharing — that make iMovie on iPad an amazing experience.
Shoot video on your device and it automatically appears in iMovie, ready for you to edit just the way you want. Simply tap to add video and photos, drag to trim clips, and slide to preview your project — you'll have a four-star short film to share in no time at all.
Make your movie look like a mini-blockbuster with one of eight unique themes that give your video an unforgettable look. Three new themes — Neon, Simple, and CNN iReport — provide more ways to enhance your project. And each theme includes great titles, transitions, and an accompanying soundtrack.
Choose the best photos taken with the built-in camera in your iOS device and drop them into your project. Or add photos you synced to your device. iMovie customizes each shot with a Ken Burns-style panning effect that uses face detection to keep faces in the frame. And now you can enhance your snaps with graphics and text by selecting from a variety of title styles in each theme.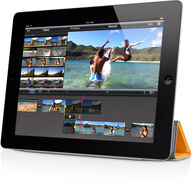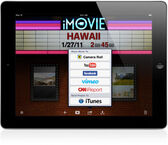 If you're using iMovie on iPad, just pinch open any transition to reveal the Precision Editor — right in the timeline. It's easy to see where one clip ends and another begins, so you can tap and drag to make advanced edits with pinpoint accuracy. iMovie gives you lots of ways to add a little ear candy to your projects, from soundtracks and sound effects to direct audio recording from the microphone in your iOS device. Cue the laughter or the tears with background music and a collection of fun sound effects. Choose from eight soundtracks that match the look and feel of iMovie themes, or browse and select a tune from your own music library. With over 50 sound effects, iMovie lets you dial up the drama in every parting or pratfall. Hit all the right notes with visual editing of your soundtrack. Drag to add, delete, and rearrange audio clips. Easily adjust the volume of any audio track. Add multiple background songs or loop a musical selection to fill out your project. iMovie automatically fades out the music at the end of your movie for maximum effect. And iMovie on iPad even lets you see audio waveforms for every clip in your project, so you can edit with more precision. Narrate the action or create your own soundtrack by recording audio directly into your movie's timeline using the microphone in your iPad, iPhone, or iPod touch. The live level meter lets you monitor your recording volume. It's easy to review, discard, re-record, or accept each take.
You can share your movies on YouTube, Facebook, Vimeo, MobileMe, or CNN iReport. Also you can use Airplay to share it throughout your home.
Gallery
External links