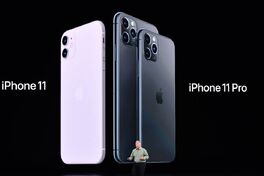 The iPhone is a line of high end smartphones, designed and marketed by Apple Inc. The first iPhone was unveiled by Steve Jobs, then CEO of Apple, on January 9, 2007,[1] and released on June 29, 2007. The 14th generation models, the iPhone 12, 12 mini, 12 Pro, and 12 Pro Max, were announced on October 13, 2020, and include iOS 14, Apple's latest operating system for handheld devices.
All iPhones can function as a video camera (since the the iPhone 3GS), a camera phone, a portable media player, and an internet client with email and web browsing capabilities, can send texts and receive visual voicemail, and has both Wi-Fi through 4G connectivity (the original iPhone only supported EDGE/2G). The user interface is built around the device's multi-touch screen, including a virtual keyboard rather than a physical one. Third-party as well as Apple application software is available from the App Store, which launched in mid-2008 and now has over 900,000 "apps" approved by Apple.[2] These apps have diverse functions, including games, reference, GPS navigation, social networking, security and advertising for television shows, films, and celebrities.
Development history
Since 1982, Hartmut Esslinger and other designers at Apple Computer had been experimenting with various concepts incorporating telephone features before the advent of smartphones, though none of these ever reached the market.[3] There were some 3rd party products based on Apple's Newton platform, such as the Siemens NotePhone and Digital Ocean Seahorse, that were released in 1993 and 1996, respectively.[4][5][6][7]
With the increasing popularity of Apple's new iPod line in 2002, CEO Steve Jobs expressed concern about other product categories that may cannibalize its potential, such as mobile phones.[3] Though publicly denying it, Apple began work on a touch-sensitive tablet.[8][9][10] Apple had been a longtime partner with Motorola for its processors and announced an agreement on July 26, 2004 to jointly develop an "iTunes phone" that would become the Motorola ROKR E1.[3][11] Steve Sakoman, VP of OS and server technology who formerly headed the Newton project, was concerned about development for Motorola's phone and advocated to Jobs that Apple create its own. Jobs personally had low expectations of Motorola, but was concerned about the influence of mobile carriers at the time. In the meantime, Jobs was gathering information to eventually pursue a deal with Cingular Wireless (now AT&T Mobility). Michael Bell, VP of CPU software, stated that he sent Jobs an email in November 2004 also advocating for an Apple-developed phone.[12][13] Scott Forstall, senior director at the time, said that Jobs was finally motivated after being annoyed by a Microsoft executive who claimed that their Windows tablet and stylus would "rule the world". Jobs then instructed Forstall to put the tablet on hold and redirect the effort towards the phone.[14][15]
At least two operating system candidates entered into development in 2004 and many user interfaces were prototyped, ranging from Multi-touch to variations of the Click Wheel interface. Jon Rubinstein led development on a lightweight Linux-based version (referred to as "Acorn") while Avie Tevanian and Scott Forstall worked to create a streamlined version of Mac OS X (codenamed "Purple") to run on the ARM chipset.[16][17] "Purple" was chosen in reference to other project codenames based on color.[18] Forstall stated that only engineers from within the company were permitted to be recruited for the project. Secrecy was so guarded that they were not told what they would be working on.[19] The team secured a building which was nicknamed the "Purple Dorm" with a Fight Club poster on the front door.[18] UI concepts were mocked up in Macromedia Director before being ported to run on prototype ARM hardware. Though Tony Fadell communicated that the Linux-based version may be a waste of time, CEO Steve Jobs insisted on prototyping all options for evaluation.[16] Two of the hardware prototypes that were assembled were identified as "P1" and "P2". P1 was based on the "Acorn OS" that used a software implementation of the Click Wheel on the touch screen; P2 used a simplified version of Mac OS X with touch-based buttons. Though the OS X version was limited and took longer to boot, it was selected for final development to become the first iPhone OS.[20]
After Steve Jobs announced the first iPhone on January 9, 2007, he complained to VP of operations Jeff Williams about the scratches that had already developed on the plastic screen of the prototype and said, "We need glass." Two days later, Corning CEO Wendell Weeks contacted Williams to tell him: "Hey, your boss called and said my glass sucks." Apple and Corning then scrambled to develop a manufacturing process for a new type of chemically strengthened glass that Corning had been researching. By late June, the iPhones began shipping with the glass screens which later became known as Gorilla Glass.[21]
Models
There are fifteen generations of iPhone models, each accompanied by a major release of iOS (formerly known as iPhone OS) and a new Apple processor.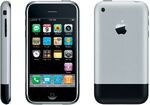 iPhone
The original iPhone was a GSM phone that established design precedents like screen size and button placement that have persisted through all models. Its practicly the same but, an older version.
iPhone 3G
The iPhone 3G added 3G cellular network capabilities and A-GPS(Assisted GPS)location.
iPhone 3GS
The iPhone 3GS used the same case designs, but added a faster processor, compass, and higher resolution camera, including video recording at 480p.
iPhone 4
The iPhone 4 featured a higher-resolution 960x640 "Retina" display, a rear facing camera (720p video) and introduced a front facing camera (at a lower VGA resolution) for FaceTime video calling and for use in other apps like Skype. The iPhone 4 was released on June 24, 2010. In the U.S., AT&T was the only authorized carrier until February 10, 2011, when a CDMA version of the iPhone 4 launched for Verizon.
iPhone 4s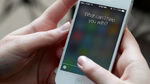 On October 4, 2011, Apple announced the iPhone 4s. The iPhone 4s added a higher resolution camera (8 megapixel) with 1080p video recording, face detection, video stabilization, a faster, dual core A5 processor, multi-standard wireless support (allowing a single handset to operate on networks based on both GSM/UMTS and CDMA technologies), GLONASS support, Bluetooth 4.0 and a natural language voice control system called Siri. It was available in 16 GB, 32 GB, and 64 GB capacity options. In the United States, it was announced that two carriers, C Spire and Sprint, would begin carrying the iPhone 4 and iPhone 4s on October and November 2011, respectively.[22]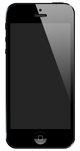 iPhone 5
The iPhone 5 was introduced on September 12, 2012, and released on September 21. The iPhone 5 features a dual-core A6 processor with 1GB of RAM, a new 4-inch Retina Display, a new digital connector known as Lightning .
iPhone 5s and iPhone 5c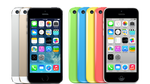 On September 10, 2013, Apple announced the iPhone 5c and iPhone 5s.
The iPhone 5C sported five colors, white, pink, yellow, blue, and green, and featured iOS 7, which introduced a new flatter design. This iPhone was the first to be made out of plastic since the iPhone 3GS.
The iPhone 5S introduced Touch ID, a fingerprint scanner to secure your iPhone. The camera has been improved by replacing the LED flash with True Tone Flash, a dual-tone flash that chooses between white and amber, to give you the perfect photo. These two iPhones were the first to include new color options.

iPhone 6 and iPhone 6 Plus
On September 9, 2014, Apple announced the iPhone 6 and 6 Plus. These models again increased the screen size to 4.7 and 5.5 inches, respectively. Other improvements included a new video camera, NFC, and 802.11ac Wi-Fi.

iPhone 6s and iPhone 6s Plus
On September 9, 2015, Apple announced the iPhone 6S and 6S Pluss. These models introduced 3D Touch, which displays different options depending on how much pressure is placed upon the screen. Other improvements included Live Photos, a 4K video camera and 12MP digital camera, "Retina Flash" which flashes the screen during a self portrait, and a new "Rose Gold" color option.
The iPhone 6s and 6s Plus included iOS 9, a new version of the mobile OS which features improved performance and the capabilities to handle 3D touch.
iPhone SE (1st generation)

Apple first revealed the first generation iPhone SE on March 21, 2016 in the "let us loop you in" keynote at Cupertino, California. They released it ten days later on March 31, 2016. This model is based on the design of the small iPhone 5S, but with newer components, such as the Apple A9 processor and a 12MP camera, which also functions as a 4K video camera. It featured the most advanced iOS of the time, which is was iOS 9. The LTE with the Wi-Fi is much faster. The available colors were Rose gold, Gold, Space Gray, and Silver. Faster than the previous iPhones and less expensive too. This is a very unique model, also it works better. It also features Retina Flash.
iPhone 7 and iPhone 7 Plus
iPhone 7 is a newly released phone by Apple in September 17, 2016. The new features are a Wide Color gamut but same resolution display, addition of the Matte Black and the Jet Black color (colour), one of the fastest mobile phone processors featuring 2 high performance cores and 2 ultra efficient cores, enhanced 3D touch, higher aperture cameras and iPhone 7 Plus with 2 cameras. It got rid of the 3.5mm headphone jack.
It also featured a home button with the taptic sensor that is found on the newest MacBook and MacBook Pro replacing the mechanical home button.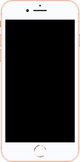 iPhone 8 and iPhone 8 Plus
Announced alongside the iPhone X on September 12, 2017 and scheduled to be released on September 22, the iPhone 8 includes a faster A11 processor, a glass body that is water and dust-resistant and enables wireless charging, louder speakers, a new Retina HD display with True Tone technology, a 12MP camera with a more advanced sensor and new color filter and optical image stabilization. The iPhone 8 Plus has an exclusive "Portrait Mode" lighting system. It comes installed with iOS 11.[23][24]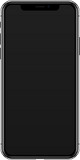 iPhone X
The iPhone X was announced alongside the iPhone 8 on September 12, 2017, with a scheduled release date of November 3, 2017. It has a 5.8-inch edge-to-edge Super Retina OLED display, faster A11 Bionic processor, facial recognition technology dubbed "Face ID", animated emoji (Animoji), and no home button. It also includes the wireless charging, glass body, and Portrait Mode from the iPhone 8 and 8 Plus, and comes installed with iOS 11.[25][26]
iPhone XR, iPhone XS and iPhone XS Max
The iPhone XR, XS, and XS max were based on the iPhone 10, with the XR being a single camera, and the XSs being dual. The XS Max was the first Max iPhone.
iPhone 11, iPhone 11 Pro and iPhone 11 Pro Max
The iPhone 11 had a new camera design, with the pros being the first iPhones to come with a triple camera system.
iPhone SE (2nd generation)
The iPhone SE is an iPhone with the design of the iPhone 8, but with a faster chip, and new features. This phone featured a single camera system, in contrast to the previous few years of iPhones.
iPhone 12, iPhone 12 mini, iPhone 12 Pro and iPhone 12 Pro Max
The iPhone 12 was the first iPhone to have a mini model, for those with smaller hands. This phone also had a massive leap in CPU and GPU from the iPhone 11s.
iPhone 13, iPhone 13 mini, iPhone 13 Pro and iPhone 13 Pro Max
The iPhone 13 had major upgrades to the camera, including cinematic mode, photographic styles, and ProRes video. This was the first iPhone to have the base storage of 128GB, and a Maximum storage of 1TB .
Gallery
References
↑ Honan, Mathew (January 9, 2007). Apple unveils iPhone. Macworld. Retrieved on April 6, 2008.
↑ Apple Inc.. iPhone – Learn about apps available on the App Store. Apple. Retrieved on November 11, 2010.
↑ 3.0 3.1 3.2 Apple's Phone: From 1980s' Sketches to iPhone. Part 1 by Eldar Murtazin, Mobile-Review. 2010-06-16.
↑ Mark Johnson (2012-04-19). Siemens NotePhone. My Apple Newton.
↑ CTIA Presents the First Annual APPY Awards for Best Wireless Applications, Cellular Telecommunications Industry Association. 1996-10-08. Archived 2007-12-30.
↑ Obscureware, Computerworld. 1996-08-09.
↑ Review: Digital Ocean Seahorse, InfoWorld. 1997-03-24.
↑ Apple's Phone: From 1980s' Sketches to iPhone. Part 3 by Eldar Murtazin, Mobile-Review. 2010-06-20.
↑ "Project Purple" and the pre-history of the iPhone by Rene Ritchie, iMore. 2012-08-04.
↑ Revealed: iPad prototype from 2002 that Steve Jobs denied existed by Charles Arthur, The Guardian. 2012-07-19.
↑ Apple's Phone: From 1980s' Sketches to iPhone. Part 2 by Eldar Murtazin, Mobile-Review. 2010-06-17.
↑ The secret origin story of the iPhone by Brian Merchant, The Verge. 2017-06-13.
↑ Apple book season: tidbits from Dogfight as unofficial Jony Ive biography goes on sale by Mark Gurman, 9to5Mac. 2012-11-14.
↑ Steve Jobs was driven to create iPhone by obnoxious Microsoft guy with stylus by Liam Tung, ZDNet. 2017-06-22.
↑ Apple began "Project Purple" because Steve Jobs hated Microsoft exec, says Scott Forstall by Mikey Campbell, AppleInsider. 2017-06-21.
↑ 16.0 16.1 Tony Fadell tells us the story of the iPod-based iPhone prototype by Nilay Patel, The Verge. 2017-01-11.
↑ 4 Real Secrets We've Learned So Far About Apple by Dan Rowinski, ReadWriteWeb. 2012-08. Archived 2012-08-08.
↑ 18.0 18.1 Scott Forstall testifies: live from the Apple v. Samsung courtroom by Bryan Bishop, The Verge.2012-08-03.
↑ Project Purple: Scott Forstall Tells All About the iPhone's Creation by Eric Limer, Gizmodo. 2012-08-03.
↑ Watch Apple's early, ugly iOS prototype in action by Rich McCormick, The Verge. 2017-01-11.
↑ What happened to the original iPhone's plastic screen? by Thomas Ricker, The Verge. 2019-07-09.
↑ David Goldman (October 19, 2011). Tiny regional carrier C Spire lands iPhone 4S. CNN. Retrieved on 18 October 2011.
External links
Articles