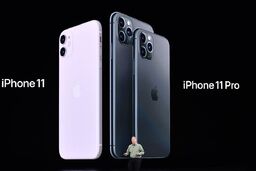 The iPhone is a line of high end smartphones, designed and marketed by Apple Inc. The first iPhone was unveiled by Steve Jobs, then CEO of Apple, on January 9, 2007,[1] and released on June 29, 2007. The 14th generation models, the iPhone 12, 12 mini, 12 Pro, and 12 Pro Max, were announced on October 13, 2020, and include iOS 14, Apple's latest operating system for handheld devices.
All iPhones can function as a video camera (since the the iPhone 3GS), a camera phone, a portable media player, and an internet client with email and web browsing capabilities, can send texts and receive visual voicemail, and has both Wi-Fi through 4G connectivity (the original iPhone only supported EDGE/2G). The user interface is built around the device's multi-touch screen, including a virtual keyboard rather than a physical one. Third-party as well as Apple application software is available from the App Store, which launched in mid-2008 and now has over 900,000 "apps" approved by Apple.[2] These apps have diverse functions, including games, reference, GPS navigation, social networking, security and advertising for television shows, films, and celebrities.
Models
There are fourteen generations of iPhone models, each accompanied by a major release of iOS (formerly known as iPhone OS) and a new Apple processor.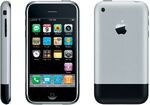 iPhone 
The original iPhone was a GSM phone that established design precedents like screen size and button placement that have persisted through all models. Its practicly the same but, an older version.
iPhone 3G 
The iPhone 3G added 3G cellular network capabilities and A-GPS(Assisted GPS)location.
iPhone 3GS 
The iPhone 3GS used the same case designs, but added a faster processor, compass, and higher resolution camera, including video recording at 480p. 
iPhone 4
The iPhone 4 featured a higher-resolution 960x640 "Retina" display, a rear facing camera (720p video) and introduced a front facing camera (at a lower VGA resolution) for FaceTime video calling and for use in other apps like Skype. The iPhone 4 was released on June 24, 2010. In the U.S., AT&T was the only authorized carrier until February 10, 2011, when a CDMA version of the iPhone 4 launched for Verizon.
iPhone 4s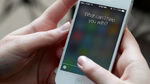 On October 4, 2011, Apple announced the iPhone 4s. The iPhone 4s added a higher resolution camera (8 megapixel) with 1080p video recording, face detection, video stabilization, a faster, dual core A5 processor, multi-standard wireless support (allowing a single handset to operate on networks based on both GSM/UMTS and CDMA technologies), GLONASS support, Bluetooth 4.0 and a natural language voice control system called Siri. It was available in 16 GB, 32 GB, and 64 GB capacity options. In the United States, it was announced that two carriers, C Spire and Sprint, would begin carrying the iPhone 4 and iPhone 4s on October and November 2011, respectively.[3]

iPhone 5 
The iPhone 5 was introduced on September 12, 2012, and released on September 21. The iPhone 5 features a dual-core A6 processor with 1GB of RAM, a new 4-inch Retina Display, a new digital connector known as Lightning .
iPhone 5s and iPhone 5c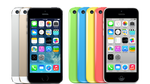 On September 10, 2013, Apple announced the iPhone 5c and iPhone 5s. 
The iPhone 5C sports five colors, white, pink, yellow, blue, and green, and featured iOS 7, which introduced a new flatter design. This iPhone is the first to be made out of plastic since the iPhone 3GS.
The iPhone 5S introduces Touch ID, a fingerprint scanner to secure your iPhone. The camera has been improved by replacing the LED flash with True Tone Flash, a dual-tone flash that chooses between white and amber, to give you the perfect photo. These two iPhones were the first to include new color options.

iPhone 6 and iPhone 6 Plus 
On September 9, 2014, Apple announced the iPhone 6 and iPhone 6 Plus. These models again increased the screen size to 4.7 and 5.5 inches, respectively. Other improvements included a new video camera, NFC, and 802.11ac WiFi.

iPhone 6s and iPhone 6s Plus 
On September 9, 2015, Apple announced the iPhone 6s and iPhone 6s Plus. These models introduced 3D Touch, which displays different options depending on how much pressure is placed upon the screen. Other improvements included Live Photos, a 4K video camera and 12MP digital camera, "Retina Flash" which flashes the screen during a self portrait, and a new "Rose Gold" color option.
The iPhone 6s and 6s Plus include iOS 9, a new version of the mobile OS which features improved performance and the capabilities to handle 3D touch.
iPhone SE (1st generation)

Apple first revealed the first generation iPhone SE on March 21, 2016 in the "let us loop you in" keynote at Cupertino, California. They released it ten days later on March 31, 2016. This model is based on the design of the small iPhone 5S, but with newer components, such as the Apple A9 processor and a 12MP camera, which also functions as a 4K video camera. It featured the most advanced iOS of the time, which is was iOS 9. The LTE with the Wi-Fi is much faster. The available colors were Rose gold, Gold, Space Gray, and Silver. Faster than the previous iPhones and less expensive too. This is a very unique model, also it works better. It also features Retina Flash.
iPhone 7 and iPhone 7 Plus
iPhone 7 is a newly released phone by Apple in September 17, 2016. The new features are a Wide Color gamut but same resolution display, addition of the Matte Black and the Jet Black color (colour), one of the fastest mobile phone processors featuring 2 high performance cores and 2 ultra efficient cores, enhanced 3D touch, higher aperture cameras and iPhone 7 Plus with 2 cameras. It got rid of the 3.5mm headphone jack.
It also featured a home button with the taptic sensor that is found on the newest MacBook and MacBook Pro replacing the mechanical home button.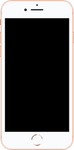 iPhone 8 and iPhone 8 Plus
Announced alongside the iPhone X on September 12, 2017 and scheduled to be released on September 22, the iPhone 8 includes a faster A11 processor, a glass body that is water and dust-resistant and enables wireless charging, louder speakers, a new Retina HD display with True Tone technology, a 12MP camera with a more advanced sensor and new color filter and optical image stabilization. The iPhone 8 Plus has an exclusive "Portrait Mode" lighting system. It comes installed with iOS 11.[4][5]

iPhone X
The iPhone X was announced alongside the iPhone 8 on September 12, 2017, with a scheduled release date of November 3, 2017. It has a 5.8-inch edge-to-edge Super Retina OLED display, faster A11 Bionic processor, facial recognition technology dubbed "Face ID", animated emoji (Animoji), and no home button. It also includes the wireless charging, glass body, and Portrait Mode from the iPhone 8 and 8 Plus, and comes installed with iOS 11.[6][7]
iPhone XR, iPhone XS and iPhone XS Max
This section of "IPhone" has data missing or is incomplete.
Please help by adding content to the section, or the article as a whole. Thank you!
iPhone 11, iPhone 11 Pro and iPhone 11 Pro Max
iPhone SE (2nd generation)
iPhone 12, iPhone 12 mini, iPhone 12 Pro and iPhone 12 Pro Max
Gallery
References
External links
Community content is available under
CC-BY-SA
unless otherwise noted.