IPhone 4
[[File:|250px]]
{{[[Template:|]]}} {{[[Template:
Introductory Price:

16 GB: $199
32 GB: $299

|
Introductory Price:

16 GB: $199
32 GB: $299

]]}} {{[[Template:
First released:

June 24, 2010

|
First released:

June 24, 2010

]]}} {{[[Template:
Discontinued:

September 10, 2013

|
Discontinued:

September 10, 2013

]]}} {{[[Template:|]]}} {{[[Template:
Features:

Retina display and facetime

|
Features:

Retina display and facetime

]]}} {{[[Template:
Operating System:

Original: iOS 4 (GSM model), iOS 4.2.5 (CDMA model)
Last: iOS 7.1.2 (released June 30, 2014)

|
Operating System:

Original: iOS 4 (GSM model), iOS 4.2.5 (CDMA model)
Last: iOS 7.1.2 (released June 30, 2014)

]]}} {{[[Template:
CPU:

Single core 32-bit ARM Cortex-A8 at 1 GHz (Underclocked to 800 MHz)

|
CPU:

Single core 32-bit ARM Cortex-A8 at 1 GHz (Underclocked to 800 MHz)

]]}} {{[[Template:
GPU:

PowerVR SGX535

|
GPU:

PowerVR SGX535

]]}} {{[[Template:
Screen Resolution:

960×640 pixels
326 ppi
3:2 aspect ratio

|
Screen Resolution:

960×640 pixels
326 ppi
3:2 aspect ratio

]]}} {{[[Template:
Colors:

Black and White

|
Colors:

Black and White

]]}} {{[[Template:
Dimensions:

4.50 x 2.31 x 0.37 inches (114.3 x 58.6 x 9.3 mm)

|
Dimensions:

4.50 x 2.31 x 0.37 inches (114.3 x 58.6 x 9.3 mm)

]]}} {{[[Template:
Weight:

4.8 oz

|
Weight:

4.8 oz

]]}} {{[[Template:
Homepage:

http://web.archive.org/web/20110902021951/http://www.apple.com/iphone/ (archived)

|
Homepage:

http://web.archive.org/web/20110902021951/http://www.apple.com/iphone/ (archived)

]]}} {{[[Template:|]]}} {{[[Template:|]]}}
Background Information
The iPhone 4 much like older models of the iPhone is a smartphone with key features including a native mailing app, a web browser, SMS messages, a phone function, and an iPod among other things. The iPhone 4 comes in black and white. The iPhone currently runs iOS 7.1.2, but originally shipped with iOS 4.0. The iPhone 4 is currently only available in an 8GB model from Apple. On February 7, 2011, Verizon released a CDMA iPhone 4, ending Apple's exclusivity agreemnent with AT&T. You can also buy it carrier unlocked from Apple's website. The device can also be bought from AT&T and Verizon, the two U.S carriers who carry the phone.
Features
iPhone 4 features a new 5 megapixel camera with four element lenses, improved white balance and tap to focus for video. a front 0.3 megapixel camera for facetime is included.HD 720p video is included. Retina display gives 4x more pixels than previous generation, 326 ppi at 960x640.
FaceTime
Main article: FaceTime
The iPhone 4 adds a new feature to the iPhone line, FaceTime. FaceTime allows a user to make a video call over Wi-Fi connection to another iPhone 4 (or up), iPod Touch 4 (or up), a Mac running 10.6.7 or later, or an IPad 2 or later. .
Camera & Photos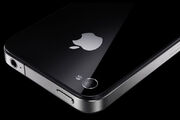 The iPhone 4 is the first iPhone to have dual camers, the front is a 0.3 megapixel camera and the back has an upgraded 5mp with an LED flash. You can now record HD 720p video.
Retina Display
The display on the iPhone 4 is designed by Apple and manufactured by LG. It features a multi-touchscreen with pixel density of 326 pixels per inch (ppi)and res. of 960x640. The screen is marketed as a "Retina Display", based that 300 ppi at 12 inches from the eye is the maximum amount of detail the human retina can distinguish.
Problems
Death Grip
Due to the placement of the antenna in the iPhone 4, users were experiencing a loss-of-signal when gripping the iPhone 4. Apple discovered the cause of the "dramatic drop in bars" was due to the formula they used to calculate signal strength. In an update to iOS, they fixed the formula. On July 16, 2010, Steve Jobs announced Apple would provide a free case to all iPhone 4 customers to increase signal strength. This was said to be corrected with the release of the CDMA iPhone 4, now available on Verizon. It is not known if the 8GB model sold by Apple still has this problem. After iOS 4.2 released, The Death Grip problem disappeared.
Accessories
Bumper
An iPhone 4 Bumper is a ring of rubber that surrounds the edge of the iPhone 4. The Bumper is designed to strengthen the signal of the iPhone 4. A different design had to be made to the iPhone 4 bumpers to fit the CDMA version of the iPhone 4 which was released in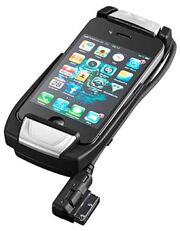 early 2011. This is also available for the iPhone 4S as well.
Carriers
The iPhone 4 was originally released exclusively to AT&T in the U.S. On January 11, 2011, Verizon announced that they will be selling a CDMA version of the iPhone 4. They have added a 'Mobile Hotspot' feature allowing users to use the iPhone as a wireless hotspot for up to 5 connected devices. They also added a new antenna which they hoped would solve the 'Death Grip' problem. So hopefully it gets better
Hardware
Note: The iPhone 4 might have new hardware, such as the Gyroscope, not listed here. Please improve it if you can.
Samsung S5L8920 Application Processor → Apple A4 System-On-Chip

ARM Cortex-A8 32-Bit Core Processor

ARMv7 and THUMB-2 Instruction Set
1Ghz (underclocked to 600Mhz to prevent overheating) → 1Ghz (underclocked to 800Mhz to prevent overheating)

256MB SDRAM → 512MB SDRAM
Integrated PowerVR SGX535 Graphics Card

Toshiba TH58G6D1DT (NAND Flash Storage)
Marvell 88W8686 (Wi-Fi)
Broadcom BCM4325 (Bluetooth)
Infineon X-Gold-608 → Infineon X-Gold-618 (GSM), Qualcomm MDM6600 (CDMA) (Phone, Messages, and Cellular Data)
Infineon Hammmerhead II PMB2525 → Broadcom BCM4750 (GSM), Qualcomm MDM6600 (CDMA) (GPS)
Community content is available under
CC-BY-SA
unless otherwise noted.