The iPhone 4S, alternatively stylized as iPhone 4S, is a touchscreen slate smartphone designed and marketed by Apple Inc.[1] It is the fifth generation iPhone, successor to the iPhone 4, and predecessor of the iPhone 5. The iPhone 4S was announced at Apple's Let's Talk event on October 4, 2011 by CEO Tim Cook in Apple's Town Hall in Cupertino, California and released on October 14.[2]
Its new features primarily consist of a new faster 800 Mhz Dual-core Apple A5 chip (which was also implemented in the iPad 2), a camera with higher resolution (8 MP), better HD 1080p video recording, better antennae, Siri voice assistant and support for 14.4 Mbit/s ("4G" according to AT&T) HSPA+ networking
For customers in the United States, it was available through AT&T, Verizon, and for the first time, also for Sprint and C Spire. In Japan, it was available through au (a KDDI brand) and Okinawa Cellular, for the first time.
The iPhone 4S initially shipped with Apple's iOS 5 operating system, which also shipped with the white 4th-generation iPod touch. It is primarily controlled by a user's fingertips on a multi-touch display. Its last software update was iOS 9.3.6, released on July 22, 2019.
Features
The new features of the iPhone 4S are mainly internal changes regarding speed and new features including Siri, a voice-controlled digital assistant. Though in addition to the upgrades mainly regarding performance, various software features were also introduced exclusive to the iPhone 4S.
The iPhone 4S retains most of the exterior design of its predecessor, the iPhone 4. The front and back are flat, the screen made out of glass. There is a camera on the front and the back, the sides are made out of stainless steel with metal buttons. It keeps it's 3.5 inch (8.89cm) screen of past iPhones with the home button at the bottom, the only changes are the five-lens 8 Mega-pixel camera and the alteration to the Facetime microphone. The iPhone 4S still comes with two colors, black and white.
Processor, memory and storage
The iPhone 4S has a 1GHz Dual-core Apple A5 processor underclocked to 800MHz to extend battery life and to prevent heat, compared to the single-core A4 processor used in the iPhone 4. It has 512MB of RAM, the same as its predecessor.
Camera
The camera on the iPhone 4S is capable of shooting 8MP stills (3264x2448) and record up to full 1080p HD at 30 frames per second with upgraded quality (30% better clarity, 26% better white balance and color accuracy). The camera can now be accessed directly from the lock screen, and the volume up button as a shutter trigger. The built-in gyroscope is able to stabilize the camera while recording video. Other features of the camera are macro (for close up pictures) and faster capture including being able to take its first picture in 1.1 seconds and the next half a second later.
Gaming
The iPhone 4S uses the Apple A5 system-on-a-chip that uses an Imagination Technologies PowerVR SGX graphics processing unit, which features pixel, vertex, and geometry shader hardware, supporting OpenGL ES 2.0 and DirectX 10.1 Shader Model 4.1. The SGX is the same GPU used in the iPhone 4S' predecessor, the iPhone 4. However, the iPhone 4S uses a dual-core model, the SGX543, that is integrated with the Apple A5 SoC in the same way as the iPad 2.
Apple's claim that the iPhone 4S can process graphics up to "seven times faster" than the iPhone 4 was corroborated by Epic Games President Mike Capps. At the "Let's Talk iPhone" event held by Apple on October 4, 2011, Capps demonstrated Epic Games' Infinity Blade 2, the sequel to Infinity Blade, on an iPhone 4S. Capps boasted that the game uses Epic Games' Unreal Engine 3 and features the same graphic techniques used in the Xbox 360 game Gears of War 3.
Gaming on the iPhone 4S has been likened to the PlayStation Vita, that features the same SGX GPU only in a quad-core configuration, and the Nintendo 3DS handheld game consoles. Additionally, the iPhone 4S' ability to process 30 million polygons per second has been compared to the PlayStation 3 and the Xbox 360 home video game consoles that are capable of processing 700 million and 500 million polygons per second respectively.
CVG's deputy editor Andy Robinson told TechRadar that the "[iPhone 4S] is certainly laying down some serious credibility for the iPhone as a core gaming device. Not only is it now pushing out games that simply eclipse the [Nintendo 3DS] visually, but features like cloud saving and TV streaming support are really exciting for gamers."
Senior Gaming Analyst at Jon Peddie Research Ted Pollak believes the biggest improvement to gaming on the iPhone 4S is the voice control features, noting that "one of the features that Nintendogs players loved was the ability to talk to it. There's no reason why a game like that couldn't be done on the iPhone 4S, and much more sophisticated given the voice control shown."
Siri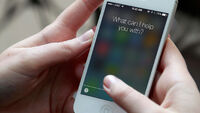 The iPhone 4S introduced a new automated voice control system called "Siri", unique to the 4S, that allows the user to give the iPhone commands, which it can execute and respond to. For example, iPhone commands such as "What is the weather going to be like?" will generate a response such as "The weather is to be cloudy and rainy and drop to 54 degrees today". These commands can vary greatly and control almost every section of the phone. The commands given do not have to be specific and can be used with natural language. Siri can be accessed by holding down the home button for an extra amount of time (compared to using the regular function). An impact of Siri, as pointed out by Apple video messages, is that it is much easier and/or possible for people to use device functions while driving, exercising, or when they have their hands full. It also means people with trouble reading, seeing, or typing can access the phone more easily.
It's not clear what the impact of Siri speaking in public will be, but it does not have to speak out loud and can be used with headphones. One interface feature of Siri is that it can be activated by holding the phone to a person's head, with the iPhone 4S' proximity sensor.
At launch Siri supports French, English, and German languages. In one early review, German Siri handled the language well but needed more information from supporting databases, such as route information and possibly the Wolfram Alpha "Computational Knowledge Engine". One early review noted its good performance in English, although it did confuse "4" and "for" at one point. The New York Times said Siri's ability to comprehend was "mind-blowing".
The Harvard Business School described Siri as the new phone's most interesting feature, and how well it works could make or break it. Apple says the A5 is a reason why Siri may not come to other devices even with iOS 5 upgrades. However, some gadget reviewers believes otherwise. Several smartphone reviewing sites have pointed out that Apple is making Siri exclusive to the apple iPhone 6 because that is the only selling point of the phone compared to the previous iPhone 4.
Siri is supported by the A5 chip and currently an iPhone 4S exclusive. Siri also needs internet access to function. When used for the first time, Siri does not require setup but does adapt to a user's voice over time, and can also be taught certain things directly. A number of aspects of the software can be configured, such as language and its voice feedback ability (its ability to talk back).
At launch Apple said Siri is still in Beta, and it has a certain set of abilities with restrictions, such as being able to dictate texts but not emails, and only controlling certain apps. Nevertheless one area it may be useful is driving and exercise activities. It is integrated with Apple's Find My Friends program (which debuted at the same time as the 4S), so Siri can potentially answer questions like "Where is my wife?" When it is enabled, Apple's Find My Friends lets a social group know where each other are and Siri can use this information to answer questions. Siri can be taught information, so it knows who a person is referring to when they use generic terminology on that device.
Recently iPhone 4S users reported that there is a security Loophole in iPhone's Siri which allows unauthorized users to bypass the passcode lock to perform tasks like making calls and sending messages with the help of Siri. The British English voice for Siri is provided by Jon Briggs.
Messaging
On the iPhone 4S, texting can be done aided by the voice assistant which allows speech-to-text. In addition to regular texting, messaging on the iPhone 4S is supported by iMessage, a specialized instant messaging program and service that allows unlimited texting to other Apple iOS 5 products. This supports the inclusion of media in text messages, integration with the device's voice controlled software assistant, and read receipts for sent messages. iMessages are in blue, and regular texts in green in the screen bubbles. Input to the computer comes from a keyboard displayed on the multi-touch screen or by voice-to text by speaking into the microphone. Entered text is supported by predictive and suggestion software as well as a spell checker, that includes many regional dialects like Swiss spoken French.
Since Siri can send text messages, a person can text and drive without taking their eyes off the road, as shown in Apple's video ad. Another example, is that a person can ask Siri for information while they are cooking and their hands are messy. It also makes it much easier for people with physical disabilities such as blindness to compose and send text messages.
Reception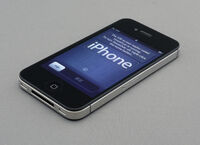 Initial reaction to the iPhone 4S announcement was mixed. Reuters, echoing technology pundits, suggested that the lack of a more radical departure from the iPhone 4 could open new market opportunities for rivals. Shares of Samsung Electronics, HTC and Nokia gained on Wednesday after the 4S was announced, while Apple stock dipped sharply. However, later in the day Apple shares rebounded, ending at a 1% gain.
Analyst C. K. Lu of Gartner believed that Apple no longer had the leading edge and 4S would only sell due to brand loyalty, as fans had been expecting an iPhone 5 with a thinner profile, bigger screen and stronger features. Some of these same people had also wanted a cheaper, stripped-down iPhone 4.
The German phone company Deutsche Telekom said they were "satisfied" with consumer interest. With the launch of the pre-order, AT&T said that the demand for the iPhone 4S was "extraordinary". Over 200,000 pre-orders were placed within 12 hours through AT&T. In addition, AT&T, Verizon, and Sprint sold out of pre-order stock by October 8th, 2011 and by the 9th there was a 1-2 week estimate on new pre-orders to be filled. On October 20, 2011 AT&T surpassed 1 million iPhone 4S activations.
On October 10th, Apple announced that over one million iPhone 4S' had been pre-ordered within the first 24 hours of it being on sale, beating the 600,000 device record set by the iPhone 4. It is believed that Steve Jobs' death helped in drastically increasing the pre-orders of the iPhone 4S, as it is the last Apple product in which he had a hand in developing. The 16-month wait between the iPhone 4 and the iPhone 4S may have contributed to overwhelming sales as well.
By October 11th, early reviews of the iPhone 4S were released. Reviewers noted the software voice assistant, camera system, and processing speeds as significant advantages over the previous model.
Retrevo surveyed more than 1,300 U.S. consumers and reported that 71 percent of all smartphone owners were not disappointed by the new iPhone 4S but 47 percent or almost a half of current iPhone 4 owners were. 12 percent were hoping for a bigger display, 21 percent wanted a refreshed design, and 29 percent desired 4G.
Unlike previous iPhone models, the sales of the iPhone 4 had not climaxed prior to the 4S introduction. For example, the 3G model came out when sales of the first iPhone had declined to less than half their peak. In addition, iPhone 4 users had high marks for being satisfied with their phone. Nevertheless, they wanted even more from Apple, but forgot that from Apple's perspective the iPhone 4 was still a hit and that new users may not be bothered by the look and feel staying the same, because they did not have iPhone 4 in the first place.
On October 17, 2011, Apple had announced that four million iPhone 4S' were sold in the first three days of release, and 25 million iOS users had upgraded to the version supported by the iPhone 4S, iOS 5. Phil Schiller, Apple's senior vice president of Worldwide Product Marketing, stated that the "iPhone 4S Deals is off to a great start with more than four million sold in its first weekend—the most ever for a phone and more than double the iPhone 4 launch during its first three days."[3]
On October 19, 2011, private wireless carrier C Spire Wireless announced they will be beginning selling the 4S as well in the United States. It is the smallest provider to carry the 4S so far as well as the first privately-held carrier.
Carriers
In the United States, the iPhone 4S was available from Verizon, AT&T and Sprint. In Canada, the iPhone 4S was available from Bell, Rogers and Virgin Mobile.
In November 2011, Apple introduced GSM versions of the unlocked iPhone 4S in the United States, priced at $649 for 16 GB, $749 for 32 GB and $849 for 64 GB. These unsubsidized options presented a $550 premium over purchasing through a carrier with a contract requiring a commitment to a wireless plan.[4]
References
External links