The iPhone 5 is a touchscreen smartphone designed and marketed by Apple to succeed the iPhone 4S. The iPhone 5 was unveiled at Apple's iPhone 5 event on September 12, 2012 by CEO Tim Cook at Apple's Town Hall in Cupertino, California.[1] It supported iOS 6 through 10.3.4. The iPhone 5 was superseded by the iPhone 5S and The iPhone 5C on September 10, 2013.
Its features primarily consist of a new faster 1.3 Ghz Dual-core A6 Chip, a HD front-facing camera and a rear-facing camera with panorama mode. For US customers, it was available from AT&T, Verizon, and Sprint. Canadian customers could get the iPhone 5 from Bell and other major carriers.
Design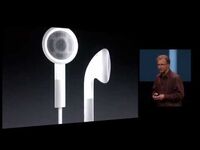 The entire design of the iPhone 5 was focus on reducing the size and weight of all of the hardware to achieve an even lighter, thinner and finely crafted iPhone than ever before. This was done in a number of different steps which ultimately led to an amazingly powerful and yet even more compact iPhone than ever. Most notably each iPhone 5's aluminium housing was photographed by two high-powered 29MP cameras. Additionally a machine analyzed the images and compared them against 725 unique inlays to find the most precisely matching housing for each individual iPhone 5.
Aluminum and glass body
The back of iPhone 5 is made of anodized 6000 series aluminum — the same material used in Apple notebooks — with inlays along the top and bottom made of ceramic glass (on the white and silver model) or pigmented glass (on the black and slate model).
Features
External design
The iPhone 5 retains a similar shape to its predecessor, the iPhone 4S but is now taller. iPhone 5 comes in two color choices. The previously white model has been renamed the White and Silver model, and the previously black model has been renamed Black and Slate. The back and side are now made of aluminum (slate, silver), glass. The front facing camera is now HD. The rear camera has the same 8 megapixels but with better optics. It now has a taller but not wider 4 inch (10.6cm) screen unlike past iPhones with 3.5" displays. This makes the screen at a desired 16:9 aspect ratio.
4 inch Retina display
The iPhone 5 implemented the first display which combined both the Retina display with the touch-screen technology. Instead of one layer for the touch-reactive technology along the display they were both merged by making the pixels of the screen display the image react to touch. With this touch-sensitive layer merged, the display design was reduced by 30%. An additional bonus of the display being a singular layer is that the image quality is even sharper than ever before.
Lightning connector
The large 30-pin connector was replaced by the Lightning connector which is 80% smaller and freed-up even more invaluable space inside of the product.
Internal design
The new features of the iPhone 5 are mainly internal and external changes regarding speed and new features including panorama mode.
Nano-Sim
Apple had to free-up as much space as possible to achieve this, the first step was further reducing the SIM card, making use of a new nano-SIM card which is a total 44% smaller than the micro SIM.
LTE
Next, whilst introducing LTE, the Apple engineers combined the voice and data chips needed for LTE in-to a single compact chip to further conserve as much space as possible.
Processor, memory and storage
The iPhone 5 has a 1.3 GHz dual-core A6 processor that has better energy consumption, compared to the dual-core A5 processor used in the iPhone 4S. It has 1GB of RAM, the same as The New iPad 3. This makes the iPhone 5 twice as fast as its predecessor, scoring 1645 on geek benchmarks, faster than the iPhone 4s (653) and even The New iPad 3 (824)
And the new Apple A6 chip is up to 2x faster than the A5 chip but 22 percent smaller.
Camera
The camera on the iPhone 5 is capable of shooting 8MP stills, up to 240º panoramic shots and record up to full 1080p HD at 30 frames per second with upgraded quality. The front facing camera has been upgraded from VGA quality to HD quality. You can also takes photos while video recording.
Look at iPhone 5 and you can't help but notice the exquisite chamfer surrounding the display. A crystalline diamond cuts this beveled edge. It's what gives iPhone 5 its distinctive lines. Fitting for a phone so brilliant.
The 8MP iSight camera has even more features — like panorama and dynamic low-light mode — yet it's 25 percent smaller.
Size Reduction Summary
A6 chip 22% smaller
nano SIM 44% smaller
LTE chips - 30% smaller
Lightning connector 80% smaller
Display 30% thinner
Software features
Siri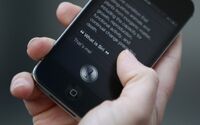 The iPhone 4S introduced a new automated voice control system called "Siri", unique to the 4S at the time, that allowed the user to give voice commands to the iPhone, which it can execute and respond to. For example, iPhone commands such as "What is the weather going to be like?" will generate a response such as "The weather is to be cloudy and rainy and drop to 54 degrees today". These commands can vary greatly and control almost every section of the phone. The commands given do not have to be specific and can be used with natural language. Siri can be accessed by holding down the home button for an extra amount of time (compared to using the regular function). An impact of Siri, as pointed out by Apple video messages, is that it is much easier and/or possible for people to use device functions while driving, exercising, or when they have their hands full. It also means people with trouble reading, seeing, or typing can access the phone more easily.
It's not clear what the impact of Siri speaking in public will be, but it does not have to speak out loud and can be used with headphones. One interface feature of Siri is that it can be activated by holding the phone to a person's head. The iPhone 4S has a proximity sensor.
As of iOS 7, Siri supported United States (English, Spanish), United Kingdom (English), Australia (English), France (French), Germany (German), Japan (Japanese), Canada (English, Canadian French), China (Mandarin), Hong Kong (Cantonese), Italy (Italian), Korea (Korean), Mexico (Spanish), Spain (Spanish), Switzerland, (Italian, French, German) and Taiwan (Mandarin) languages. In one early review, German Siri handled the language well but needed more information from supporting databases, such as route information and possibly the Wolfram Alpha "Computational Knowledge Engine". One early review noted its good performance in English, although it did confuse "4" and "for" at one point. The New York Times said Siri's ability to comprehend was "mind-blowing".
At launch Apple said Siri was still in Beta, and it has a certain set of abilities with restrictions, such as being able to dictate texts but not emails, and only controlling certain apps. Nevertheless one area it may be useful is driving and exercise activities. It is integrated with Apple's Find My Friends program (which debuted at the same time as the 4S), so Siri can potentially answer questions like "Where is my wife?" When it is enabled, Apple's Find My Friends lets a social group know where each other are and Siri can use this information to answer questions. Siri can be taught information, so it knows who a person is referring to when they use generic terminology on that device.
Messaging
On the supporting iDevices, texting can be done aided by the voice assistant which allows speech-to-text. In addition to regular texting, messaging on the such devices is supported by iMessage, a specialized instant messaging program and service that allows unlimited texting to other Apple iOS 5 products. This supports the inclusion of media in text messages, integration with the device's voice controlled software assistant, and read receipts for sent messages. iMessages are in blue, and regular texts in green in the screen bubbles. Input to the computer comes from a keyboard displayed on the multi-touch screen or by voice-to text by speaking into the microphone. Entered text is supported by predictive and suggestion software as well as a spell checker, that includes many regional dialects like Swiss spoken French.
Since Siri can send text messages, a person can text and drive without taking their eyes off the road, as shown in Apple's video ad. Another example, is that a person can ask Siri for information while they are cooking and their hands are messy. It also makes it much easier for people with physical disabilities such as blindness to compose and send text messages.
Product history
On September 17, 2012, Apple announced that the iPhone 5 had attracted over 2 million pre-orders within the first 24 hours.[2] By the following week, over 5 million units had been sold.[3]
References
External links