iPhone OS 1, retroactively referred to as iOS 1, was the first major version of the iOS mobile operating system to be publicly released by Apple Inc. It was developed from Mac OS X and debuted with the first iPhone on June 29, 2007. It was later updated to support the first iPod touch.
History
Development history
At least two operating system candidates entered into development in 2004 and many user interfaces were prototyped, ranging from Multi-touch to variations of the Click Wheel interface. Jon Rubinstein led development on a lightweight Linux-based version (referred to as "Acorn") while Avie Tevanian and Scott Forstall worked to create a streamlined version of Mac OS X (codenamed "Purple") to run on the ARM chipset.[1] "Purple" was chosen in reference to other project codenames based on color.[2] Forstall stated that only engineers from within the company were permitted to be recruited for the project. Secrecy was so guarded that they were not told what they would be working on.[3] The team secured a building which was nicknamed the "Purple Dorm" with a Fight Club poster on the front door.[2] UI concepts were mocked up in Macromedia Director before being ported to run on prototype ARM hardware. Though Tony Fadell communicated that the Linux-based version may be a waste of time, CEO Steve Jobs insisted on prototyping all options for evaluation before the Mac OS X-based version was selected.[1]
Release history
Before the name iPhone OS was applied, Steve Jobs announced that the iPhone was running a version of OS X.
Version
Build
Released
Notes
iPhone 1.0
1A543a
2007-06-29
Initial release for the first iPhone.
iPhone 1.0.1
1C25
2007-07-31
Bug fixes. Security update for Safari.
iPhone 1.0.2
1C28
2007-08-21
Bug fixes.
iPhone 1.1
3A101a
2007-09-14
Initial release for the first iPod touch (8 and 16 GB) with support for iTunes Store.
iPhone 1.1.1
3A109a
3A110a
2007-09-27
Increased speaker volumes, added support for TV out and Lock Screen time.
Added support for iTunes Store to iPhone.
iPhone 1.1.2
3B48b
2007-11-12
Added international language and keyboard support. iTunes shows battery level.
iPhone 1.1.3
4A93
2008-01-15
Included with 32 GB 1st-gen iPod touch and $19.95 for previous iPod touch users.
Added support for multiple SMS recipients and increased SMS storage capacity.
iPhone 1.1.4
4A102
2008-02-26
Bug fixes and performance improvements.
iPhone 1.1.5
4B1
2008-07-15
Final security update for iPod touch users who did not upgrade to iPhone OS 2.
Evolution and legacy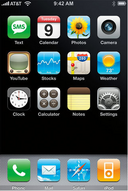 iPhone OS 1 initially lacked many features, such as the App Store, Notification Center, and Reminders. The user interface was eventually updated over time, with the addition of a 3D-like dock, multitasking, and home screen wallpapers. The simplicity of iPhone OS 1 allowed it to run faster on older hardware, and was considered revolutionary at the time. Much of its user interface was carried over through iOS 4 and 5.
References
External links