iPhone OS 3 is the third and last major version of iPhone OS, as it was succeeded by iOS 4. iPhone OS 3 was announced by Apple on June 8 at the 2009 Worldwide Developers Conference, and was released on June 17, 2009.
New features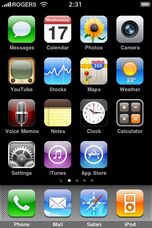 Apple claims that there was a scaling issue when they first announced this feature last year, with thousands of developers clamoring to use it, so it had to be delayed. Developers will be able to build message, sound, and badge alerts into their applications.
iPhone will support -- copy text and pictures, then paste them in any application on the device. If you change your mind about the newly pasted data, just shake to display a menu asking if you wish to undo the paste.
Developers will have the ability to charge a fee from within the application for more levels in a game, magazine subscriptions, eBooks, etc. This solves the problem of the 20 ebook readers that only allow you to read one book each.
You'll be able to use MMS on your iPhone 3G (yes, 1st gen iPhones will not get the fortune of using MMS due to the use of a different cell radio). The new Messages application will be taking the place of the SMS app and will allow you to send voice memos and pictures to your friends.
Allows iPhone apps the ability to find other iPhone users over WiFi or Bluetooth. This can be useful for anything from gaming to sharing data.
App developers can now access third-party accessories attached to the iPhone. This could allow for developers to interface with their own accessories to create a truly unique experience on the device. One of the demonstrated uses was a prototype blood glucose meter for the iPhone, from a Johnson & Johnson subsidiary, which is already getting attention from our readers; it's not for sale yet!
Apple will now be allowing applications the ability to get GPS coordinates from Core Location and turn that into software that provides directions for iPhone users. However, due to the terms of use with Google maps, developers will be required to license their own maps for this use (meaning that Turn-by-Turn GPS applications will almost certainly be paid apps). This isn't a problem for vendors like TomTom or Telenav, who already have licenses for their map data.
A option is now available in all iPhone applications, including the infamous Mail.app.
System-wide is built right into the home screen. To the left of the first home screen, there is a magnifying glass, so by flicking to the left of the first home screen will show this search app. You can search for anything, including mail, music, and notes. There is no word yet on how this will interface with third-party applications.
Stereo Bluetooth audio devices are now supported through the use of technology.
Trivia

This is the last iPhone OS to feature the original dock, as it is replaced with a 3D-style dock in iOS 4.
This is the first iPhone OS to feature the Voice Memos application, the Voice Control setting, and the cut, copy, and paste option for text editing.
External links