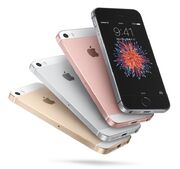 The 1st generation iPhone SE (Special Edition) is an entry-level smartphone designed and marketed by Apple Inc. It was revealed on March 21, 2016 at the "Let us loop you in." Special Event in Cupertino, California. It was released ten days later on March 31, 2016. It was succeeded in 2020 by the 2nd generation iPhone SE.
Features
The iPhone SE is based on the design of the small iPhone 5S, but with newer components, such as the Apple A9 processor and a 12MP camera, which also functions as a 4K video camera. It initially shipped with iOS 9 pre-installed. The LTE and Wi-Fi are much faster than previous models while also being less expensive. It also features Retina Flash. The available colors were gold, silver, rose gold, and space gray.
History
After the first iPhone SE was discontinued in 2018, rumors arose of a new replacement model, especially after specifications were leaked from developer builds of iOS 14.[1] In April 2020, Apple released the 2nd generation iPhone SE, based on the design of the iPhone 8.[2] The device was targeted at consumers who preferred the small form factor of the iPhone 5S but also needed updated hardware and software.
References
External links