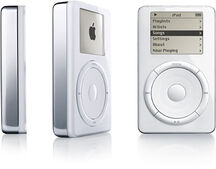 The original iPod, retroactively referred to as the 1st-generation iPod or iPod 1G, was released on October 23, 2001. It was still available on the market until April 2003. The iPod 1G existed in 5 and 10 GB variants.
History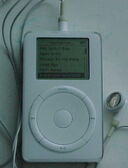 When first introduced, the iPod 1G only existed in a 5 GB version. The 10 GB version was added in March 2002.
The iPod 1G is the only iPod ever to have a physically-movable scroll wheel. Apart from this, other unique features of the iPod 1G include:
All 5GB models are iPod 1Gs
There was no cap to protect the FireWire port
The last version of the iPod Software that can be applied on 1st-generation iPods is version 1.5. Support for all 15 languages (standard with Mac OS X) was included with version 1.0.4 (although version 1.0.3 included it first, despite a compatibility problem with blue-and-white Power Macintosh G3s).
The 1st-generation iPod sold for USD 399. There was also a 10 GB version of the 1st-generation iPod.
Models
M8513 and M8541: original scroll wheel, 5 GB, Mac version only
M8709: original scroll wheel, 10 GB, Mac version only
It was really a milestone in the MP3 player world..
Versions of supported iPod Software
iPod Software 1.0
iPod Software 1.0.1
iPod Software 1.0.2
iPod Software 1.0.3
iPod Software 1.0.4
to be continued
iPod Software 1.4
iPod Software 1.5
References
External links