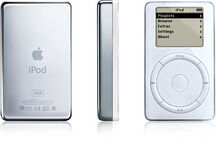 The 2nd generation iPod, also known as the iPod 2G or iPod (Touch Wheel), was released by Apple Computer on July 17, 2002.
Features
The new iPod had a few hardware improvements such as a redesigned hold switch, a cover for the FireWire port and slightly more rounded body. The main improvement was replacing the mechanical scroll wheel with a capacitive-sensing Touch Wheel, which would be adopted by subsequent models. It also offered larger hard-drive capacity options, in 10 and 20 GB models that also included an iPod Remote control.[1]
This was the first iPod with Windows support through the use of Musicmatch Jukebox, a third-party bundled application as iTunes had not yet been released for Windows yet. Apple continued to sell 5 GB versions of the 1st-generation iPod into this product's lifespan.
Requirements
The minimum operating systems required to sync to the iPod 2G are Mac OS 9.2.2 or Mac OS X 10.1.4, or Windows Me or 2000. A FireWire connection is required.[2]
References
External links