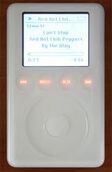 The 3rd-generation iPod, also known as iPod (Dock Connector) and iPod 3G, was an iPod model that was introduced by Apple Computer on April 28, 2003 and remained available through July 19, 2004.
New features
The Touch Wheel was revised, with the four control buttons being moved from around it to above it. The iPod 3G added backlighting to these four control buttons — the only iPod model to do so. The wheel below the four buttons is touch-sensitive like the one on the 2nd-generation model. The four control buttons are also touch sensitive.[1]
Another major feature that was introduced with the iPod 3G was the 30-pin dock connector. This was a proprietary port that carried audio, video, power, controls, as well as other auxilliary signals, all in one. The success of the 30-pin connector led to it being adopted by many other iPod models and standardized accessories. This was replaced in 2012 by the Lightning connector for newer iPod and iPhone models.
Requirements
The minimum operating systems required to sync to the iPod 3G are Mac OS X 10.1.5, or Windows Me or 2000. A FireWire or USB connection is required.[2] Macs require Mac OS X 10.3.4 or later for USB 2.0 support.[3]
Models and capacities
References
External links