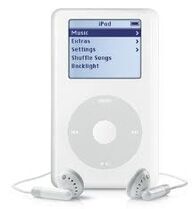 The iPod 4G (fourth-generation iPod) was introduced in July 2004. The entire lineup gained the color screen from the iPod photo on June 28, 2005.
Models
iPod Photo U2 iPod (special edition iPod) Harry Potter Collectors iPod
New features
The iPod 4G added the click wheel, which moved all of the buttons directly onto the touch sensitive scroll wheel, adopted from the iPod mini, and added the Shuffle Songs command into the main menu of the iPod.
External links