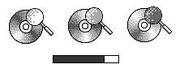 iPod Disk Scan is a safe mode of iPods that have a hard disk. It can be activated manually or automatically if the iPod Software finds a problem with the Hard Disk.[1]
When you see this screen, plug your iPod into a wall outlet so that the iPod does not lose power in the process and corrupt the data.
When started, it will show the above animation for at least twenty minutes. When done, it will show one of the below icons.
References