The iPod Radio Remote was an iPod accessory for the 1st generation iPod nano, 5th generation iPod, or later. It was announced on January 10, 2006 during the special keynote event of the Macworld Expo in San Francisco and released the same day, with a starting price of US$49 / CA$59.[1][2]
Description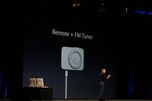 The iPod Radio Remote resembles an iPod shuffle with a headphone jack and a thin cable that plugs in through the 30-pin dock connector. The remote receives FM radio signals and is controlled by buttons arranged like an iPod shuffle's: a central pause/play button, two volume control buttons and two track skip buttons. It also included Apple earphones with a shorter cable.[3]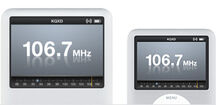 With the release of the iPod Radio Remote, the a new radio option was added to the songs tab of iPod models running iPod Software 1.1 or later. The FM radio feature can be tuned by using the click wheel and displays track and station information from signals that support the Radio Data System standard in Europe and North America. The iPod Radio Remote reduced the battery life of the connected iPod, as it did not have an internal battery.[3][4]
Discontinuation
On September 9, 2009, the iPod Radio Remote was superseded by the 5th generation iPod nano, which contained its own built-in radio.[4]
References
References