This article is about the classic iPod. For the iOS-based model, see iPod touch.
The original iPod, retroactively referred to as the iPod classic, is a series of portable media players marketed by Apple Inc. To date, there have been six generations of the iPod classic with up to 160 GB of storage, as well as a spin-off (the iPod photo) that was later re-integrated into the main iPod line. (Some sources incorrectly refer to the revisions of the sixth generation as a separate "seventh generation."[1]) All generations use a 1.8-inch (46 mm) hard drive for storage. The "classic" suffix was initially introduced when a freelance writer analyzing eBay's used/broken iPod marketplace categorized iPods into different types on May 21, 2006, and was formally introduced with the rollout of the sixth-generation iPod on September 5, 2007. Prior to this, all iPod classic models were simply referred to as iPods. It was last available in silver or black replacing the original "signature iPod white".
1st generation
Apple introduced the first-generation iPod on October 23, 2001, with the slogan "1,000 songs in your pocket". The first iPod had a black and white LCD (liquid-crystal display) screen and featured a 5 GB hard drive capable of storing 1,000 songs encoded using MP3 and was priced at US$399. Among the iPod's innovations were its small size, achieved using a 1.8" hard drive, whereas its competitors were using 2.5" hard drives at the time, and its easy-to-use navigation, which was controlled using a mechanical scroll wheel (unlike later iPods, which had touch-sensitive scroll wheels), a center select button, and four auxiliary buttons around the wheel. The iPod had a rated battery life of ten hours and data transfers were conducted through the FireWire port.
On March 20, 2002, Apple introduced a 10 GB model of the first generation iPod for US$499. vCard compatibility was added, as well, allowing iPods to display business card information synced from a Mac.
Picture
Capacity
Battery life
Colors
Release date
  5 GB
10 GB
Audio: 10 hours
White
  5 GB: Oct. 23, 2001
10 GB: Mar. 21, 2002
First Revision: July 17, 2002
Limited Edition: Dec. 11, 2002
2nd generation
The second-generation iPod was introduced on July 17, 2002. Using the same body style as the first generation, the hold switch was redesigned, a cover was added to the FireWire port, and the mechanical wheel was replaced with a touch-sensitive wheel. The front plate also had rounded corners and edges. The second-generation class was available in 10 GB for US$399 and 20 GB for US$499. The first-generation 5 GB iPod was carried over, but its price was reduced to US$299. Notably, Apple began selling Windows-compatible versions of the iPod starting with the second generation. These versions came with a 4-pin to 6-pin FireWire adapter and were bundled with Musicmatch Jukebox instead of iTunes. In December 2002, Apple unveiled its first limited edition iPods, with either Madonna's, Tony Hawk's, or Beck's signature or No Doubt's band logo engraved on the back for an extra US$50.
Picture
Capacity
Battery life
Colors
Release date
10 GB
20 GB
Audio: 10 hours
White
July 17, 2002
Limited Edition: Dec. 11, 2002
3rd generation

The third-generation iPod is considered to be the iPod which helped the product take off in the main market. It came in 10, 15, 20, 30, 40GB models. It was redesigned as it had a new control wheel which was very different to the previous iPod as it was flat on the surface of the iPod instead of rising up from the case. It was a unique design as the 4 buttons (menu, play/pause, forward, backward) were separate illuminated buttons above the wheel.
This was the first iPod to feature a dock connector which was proprietary to the iPod.
Picture
Capacity
Battery life
Colors
Release date
10 GB
15 GB
20 GB
30 GB
40 GB
Audio: 8 hours
White
Apr. 28, 2003
First Revision: Sep. 8, 2003
Second Revision: Jan. 8, 2004
4th generation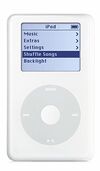 The fourth-generation iPod continued evolving by integrating the functions of separate buttons into the wheel itself. The backlighting on the controls was dropped, but the new model did give users four more hours of battery life. The screen once again was blue-hued monotone as was the third generation, but the interface displayed several new features. The 4th generation was shipped in capacities of 20 GB and 40 GB.
Picture
Capacity
Battery life
Colors
Release date
20 GB
40 GB
Audio: 12 hours
White
Black/Red (Special U2 Edition)
July 19, 2004
Special U2 Edition: Oct. 24, 2004
iPod photo
Main article: iPod photo
The iPod photo was designed and marketed by Apple as the top-of-the-line model in the iPod family. It was positioned as a premium higher-end spin-off of the fourth-generation iPod on October 26, 2004. Originally named iPod Photo, with a capital "P", a few months later it was renamed iPod photo,[citation needed] presumably to fit in with the naming of the iPod mini .It was merged back into the standard iPod Classic line within eight months of its introduction on June 28, 2005, as the iPod (with color display).
Picture
Capacity
Battery life
Colors
Release date
30 GB
40 GB
60 GB
Audio: 15 hours
Slideshow: 5 hours
White
October 26, 2004
First Resvision: Feb. 23, 2005
5th generation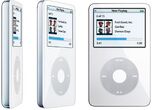 The much-anticipated 5th Generation iPod was debuted in October 2005. Utilizing the H.264 codec, the unit could now store and play HD-quality video. The screen was significantly larger than the 4th Generation/Photo version, and the body size slimmer. Models were offered in 30GB and 60GB capacities, and, in keeping with iPod nano's popularity and the feedback gained from the U2 Special Edition, they were available in either white or black.
New features were included in the interface, and this "iPod video" was promoted as being ideal for music videos, television shows, and short films and movies. Popular television shows, such as ABC's Lost, began being offered through iTunes. Other means of acquiring television shows and movies (such as peer-to-peer sharing) were utilized by many iPod owners, and soon conversion software was being circulated to convert video files into the M4A format the iPod required.
Picture
Capacity
Battery life
Colors
Release date
30 GB
60 GB
80 GB
30 GB: Audio: 14 hours
Slideshow: 3 hours
Video: 2 hours
60 GB: Audio: 20 hours
Slideshow: 4 hours
Video: 3 hours
First Revision 30 GB:
Audio: 14 hours
Slideshow: 4 hours
Video: 3.5 hours
First Revision 60 GB:
Audio: 20 hours
Slideshow: 6 hours
Video: 6.5 hours
White
Black
White (Harry Potter Edition)
Black (Harry Potter Edition)
Black/Red (Special U2 Edition)
October 12, 2005
U2 Edition: June 6, 2006
First Revision: September 12, 2006
6th generation
During a special iPod-centric event on September 5, 2007, Steve Jobs introduced the sixth-generation iPod and the suffix "classic". Featuring slightly thinner bodies, the sixth-generation iPod also sported dramatically improved battery life, claiming up to 36 hours of music playback and 6 hours of video playback.[7] The iPod Classic has a 2.5" backlit display at a resolution of 320x240. The front plate of the iPod is now made of anodized aluminum instead of polycarbonate plastic, and "Signature iPod White" has been replaced by silver. This marks the first time white is not available as a color option for an iPod. The sixth generation iPod also introduced a completely overhauled user interface, incorporating more graphics and Cover Flow. The iPod Classic was offered in an 80 GB model for MSRP US$249 and a 160 GB model for MSRP US$349. The U2 special edition has been dropped.
During the 'Let's Rock' Apple Event on September 9, 2008, the 80 GB and the thicker 160 GB model were discontinued in favor of a thin 120 GB version retailing for US$249. It introduced Genius and audio recording capabilities which are also available in other iPod models released at similar times; no firmware update provides either feature to the first generation iPods.[8] Prior to the 'It's Only Rock and Roll' event on September 9, 2009, the price of the 120 GB version was dropped to US$229. During the event Apple re-introduced the 160 GB version with the same slim profile as the 120 GB version, retailing at US$249. The 120 GB model has now been dropped and the only option available is the 160 GB model.
Picture
Capacity
Battery life
Colors
Release date
80 GB
120 GB
160 GB
80 GB: Audio: 30 hours
Video: 5 hours
160 GB: Audio: 40 hours
Video: 7 hours
First Revision: Audio: 36 hours
Video: 6 hours
Second Revision: Audio: 36 hours
Video: 6 hours
Silver (replaced white)
Black
Sep. 5, 2007
First Revision: Sep. 9, 2008
Second Revision: Sep. 9, 2009
References
External links