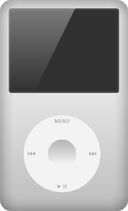 The 6th-generation iPod was introduced by Steve Jobs during a special iPod-centric event on September 5, 2007. It was the first iPod with the suffix "classic".
Features
Featuring slightly thinner bodies, the sixth-generation iPod also had dramatically improved battery life, claiming up to 36 hours of music playback and 6 hours of video playback.[1] The iPod Classic has a 2.5" backlit display at a resolution of 320×240. The front plate of the iPod is now made of anodized aluminium instead of polycarbonate plastic, and "Signature iPod White" has been replaced by silver. This marks the first time white is not available as a color option for an iPod. The sixth-generation iPod also introduced a completely overhauled user interface, incorporating more graphics and Cover Flow. The iPod Classic was offered in an 80GB model for MSRP US$249 and a 160GB model for MSRP US$349.
Revisions
During the 'Let's Rock' Apple Event on September 9, 2008, the 80GB and the thicker 160GB model were discontinued in favor of a thin 120GB version retailing for US$249. It introduced Genius and audio recording capabilities which are also available in other iPod models released at similar times; no firmware update provides either feature to the first-generation iPods.[2] Also, the black model's faceplate was replaced with a gray colored faceplate, while retaining the silver backing and the black Click Wheel.
Prior to the 'It's Only Rock and Roll' event on September 9, 2009, the price of the 120GB version was dropped to US$229. During the event, Apple replaced the 120GB version with an 160GB model, featuring the same slim profile which retailed at US$249.
Trivia
The late 2009 160 GB model is often referred to online as the '7th genaration', even though Apple never officially referred to it as such. [3]
References
External links