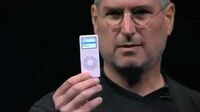 The 1st-generation iPod nano was the first model of the iPod nano line of compact media players from Apple.
Release
On September 7, 2005, Apple Computer introduced the iPod nano at a media event titled "It's Showtime". Apple CEO Steve Jobs pointed to the small watch pocket in his jeans and asking, "Ever wonder what this pocket is for?"[1] The iPod nano became available on that day in black or white.[2]
Features
Advertising emphasized the iPod nano's small size 40 millimetres (1.6 in) wide, 90 millimetres (3.5 in) long, 6.9 millimetres (0.27 in) thick and weighing 42 grams (1.5 oz). The stated battery life was up to 14 hours, while the screen was 176×132 pixels, 38 millimetres (1.5 in) diagonal, displaying 65,536 colors (16-bit color).[3] 1, 2, and 4 GB capacities were available.
Product history
On November 11, 2011, Apple announced a recall on this model of iPod nano. The recall was issued due to a battery overheat issue. This recall applied to iPod nanos sold between September 2005 and December 2006.[4]
Screen issue and lawsuit
Though iPod nano Tubes were sold as an official accessory to protect the devices from scratches,[5] Apple was still sued over the alleged tendency to become scratched.[6] In a settlement offer for the class-action lawsuit, users who purchased a nano that became scratched before obtaining a Tube received $25; users who obtained a Tube with their nano that got scratched anyway received $15.[7]
The scratches were found to have been typically caused by users storing small iPod models in their pockets with abrasive objects, such as jewelry. Users were recommended to leave on the clear protective film provided by the factory until a protective case or cover was acquired. Apple senior VP Phil Schiller noted that the iPod nano was built with the same exterior materials as the 4th-generation iPod, which received no such complaints.[8] Apple CEO Steve Jobs' experience with such plastic screens led to the adoption of chemically strengthened glass for the commercial release of the original iPhone in 2007.[9]
References
↑ Pachal, Peter. "Remembering Steve Jobs: His Best Keynote Moments", PCMag.com, October 8, 2011. Retrieved on November 15, 2011.

 

↑ Apple Introduces iPod nano, Apple Computer. 2005-09-07.
↑ iPod Nano (1st Generation) Technical Speifications – Apple.com
↑ iPod nano (1st generation) Replacement Program. Apple Inc. (November 11, 2011). Archived from the original on November 12, 2011.
↑ iPod nano - Accessories, Apple Inc. 2005-09-07. Archived 2005-10-01.
↑ Revisiting the forgotten history of obscure Apple accessories by Michael Steeber, 9to5Mac. 2018-03-19.
↑ Apple agrees to settlement for first-gen iPod nano scratches by Chris Foresman, Ars Technica. 2009-01-23.
↑ iPod nano Special Report: Scratches: How to protect from and fix, CNET. 2009-09-02
↑ What happened to the original iPhone's plastic screen? by Thomas Ricker, The Verge. 2019-07-09.
External links