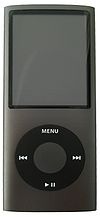 At the Apple Let's Rock Event on September 9, 2008, the 4th-generation iPod nano was officially announced.[1]
Features
The new iPod nano returned to the narrow form factor of the 1st and 2nd Generation model, while retaining and rotating the 51-millimetre (2.0 in) screen from the 3rd gen model. It was also thinner than the first, second, and third generation Nano, measuring 90.7 millimetres (3.57 in) tall by 38.7 millimetres (1.52 in) wide by 6.2 millimetres (0.24 in) thick, and weighing 36.8 grams (1.30 oz). It had a curved aluminum shell and glass screen (the glass screen being held in place with nothing but the shell). Apple claimed the battery would last 24 hours of music playback, and only 4 hours of video playback, compared to the 5 hours of the previous generation.
The six previous colors (silver, black, mint, turquoise, berry red, and rose pink) were replaced by silver, black, purple, light blue, green, yellow, orange, red, and pink, for a total of nine, although the Product Red color was only available directly from Apple (website and retail stores). Apple marketed the new colors as "Nano-chromatic". Also added was an accelerometer which allows the Nano to shuffle songs by shaking it, the option between portrait and landscape display modes by tilting the iPod left or right, and access to Cover Flow when tilted sideways.[2] Videos, however, could only be played in landscape mode. The user interface was also refreshed, adding a more stylized look in keeping with the new hardware design. It included a new voice recording feature which started automatically when an Apple compatible microphone is plugged in. It also included the new "Genius" feature, introduced by Apple the same day. The Genius feature automatically creates playlists based on a selected song using an algorithm built by Apple.
It was additionally touted as "the most environmentally friendly iPod Apple has ever made", containing arsenic-free glass and a BFR, mercury, and PVC-free design. It was also claimed to be highly recyclable. The iPod Nano fourth-generation was shipped in cases similar to the second-generation ones with the clear view in the front, and is marketed in three models: 4 GB (limited production to Europe only) and 8 GB and 16 GB. Limited quantities of an unannounced 4 GB model surfaced in various markets.[3] Also, the iPod Quiz game was dropped and replaced with a Maze game which makes use of the iPod's accelerometer similarly to such games on the iPhone and iPod Touch.
The fourth generation dropped support for charging via FireWire. "This change means that any dock accessories that use the dock connector's FireWire pins to send power—many older speakers and car chargers, for example—will not charge the fourth-generation iPod Nano."[4]
References
External links