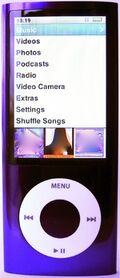 At Apple's September 9, 2009 event, a fifth generation iPod Nano was unveiled with reduced prices on the larger model (at the time of release, the 8GB was priced at $149 and the 16GB at $179), a larger, 56.3 millimetres (2.22 in) diagonal screen (up from 50.8 millimetres (2.00 in) in third and fourth generation iPod Nanos), which was also wider,[18] integrated video camera with 16 special effects, microphone, FM radio with iTunes tagging (via RDS) multiple radio regions including Americas, Asia, Australia, Europe, and Japan.
As well as continuing to support picture viewing and video playback, it also included Live Pause, a built-in pedometer, Nike+iPod Support and a speaker.[18][19] This model also had the Genius Mix feature installed.
The headphone jack and dock connector swapped locations so that the headphone jack was to the left of the dock connector. Therefore, the fifth generation iPod Nano used a different Apple Universal Dock insert than the fourth generation.[20]
The fifth generation iPod Nano had nine finishes: Silver, Black, Purple, Blue, Yellow, Orange, Product Red, Green and Pink. All had a glossier, shinier finish than the fourth generation. Just like the fourth-generation iPod Nano, Product Red and the yellow Nano were only available on the Apple Online Store and Apple Retail Store.
This generation was discontinued on September 1, 2010.
References
External links