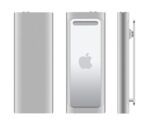 The 3rd-generation iPod Shuffle was released on March 11, 2009 and was said by Apple to be "jaw-droppingly small" and "The first music player that talks to you".[1]
Features
With dimensions of 45.2 mm × 17.5 mm × 7.8 mm (1.8 in × 0.7 in × 0.3 in), the 3rd-generation iPod Shuffle was encased in brushed aluminum like the second generation model. With a choice of silver or black versions, it was first Shuffle model to be offered in black. It featured VoiceOver technology that allowed song names, artist names, album names and playlist contents and names to be spoken in 20 different languages[2] using the Text-to-Speech incorporated in iTunes 8 and 9. It also gained support for multiple playlists, in contrast to previous versions of the iPod Shuffle, which allowed only a single playlist. The third-generation iPod Shuffle also included a polished steel attachment clip, adopting for the first time the polished steel finishing previously found only on the larger iPods, rather than the brushed aluminum used in the second-generation iPod Shuffle.
It also no longer had volume or track controls on the device itself. Instead, the packaged Apple earbuds included a three-button device on the right earbud cord. This added the functions of changing between playlists, hearing the song title and artist of the track playing, as well as play/pause, track changes and volume control.[3] It originally was not possible to change songs or volume with most third-party headphones, since they lacked these controls. However, since the device began playing music automatically when it was turned on, third-party headphones could still be used in "autoplay" mode (with no volume or playback controls), and after its release, some third-party headphones and headphone adapters began to include full support for the third generation.[4] The official headphones contained a chip designed by Apple to control the device. DRM is not however present in the chip as there is no encryption used.[5] According to the compatibility list published in Apple's website, none of the previously sold Apple headphones supported the third-generation iPod shuffle.[6]
Color refresh
On September 9, 2009, Apple introduced three new colors for the iPod Shuffle: pink, blue, and green. The Apple Store also offered a 4 GB model made of polished stainless steel.[7]
References
External links