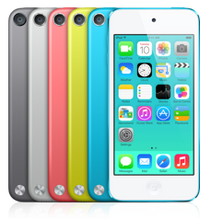 The 5th-generation iPod touch, colloquially known as the iPod touch 5G or iPod touch 5) was unveiled at Apple's media event alongside the iPhone 5 on September 12, 2012, and was released on October 11, 2012.[1] An all-purpose pocket computer with a touchscreen-based user interface, it is lighter and thinner than the 4th-generation iPod Touch, which it succeeded. It is compatible with up to iOS 9.3.5, which was released on August 25, 2016.
New features
Screen
The iPod touch features a 4-inch diagonal Retina display. A new row of apps is therefore added. It also offers more space for updated apps.
Cameras
The iPod touch has 2 cameras: the front-facing unit is a 1.2 megapixel camera while the other one is 8 megapixel with a new LED flash. The first entry-level 16 GB variant, introduced in May 2013, omitted the inclusion of the rear camera.[2]. In June 2014, Apple introduced a 16 GB version with the rear camera.[3]
The Loop
The iPod touch Loop is a new optional feature in which you push a button on the back and it pops out. Then you can attach a wrist loop via a hole on the bottom to the popped out button to attach it.
EarPods
EarPods are new headphones from Apple that are designed to fit in the ear perfectly. They have 2 speakers on the side and front for maximum sound. The EarPods bundled with the iPod touch omit the remote and microphone, unlike the ones bundled with the iPhone 5 and later.[4]
References
External links